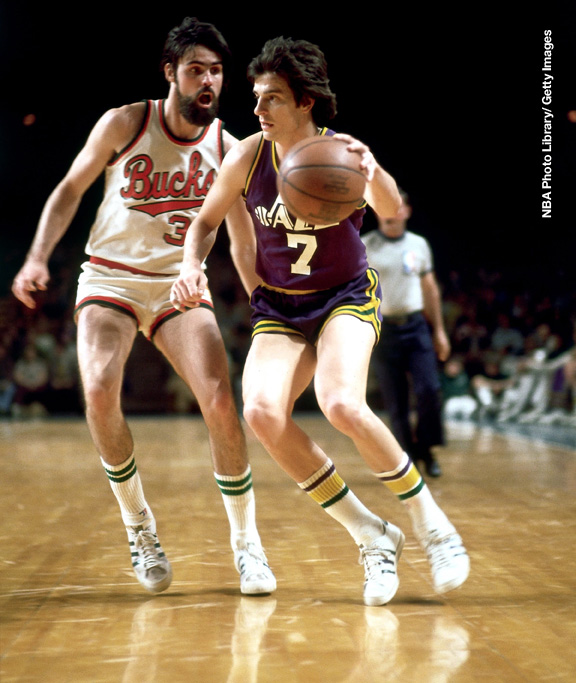 Pete Maravich might not be Mr. Sandman, but he can still score from just about anywhere on the court.
The newest version of NBA Jam has been in the works all year and finally some details are starting to roll in. In a nod to the classic NES game Mike Tyson's Punch-Out!, NBA Jam's latest edition will feature bosses at the end of every level. While gamers won't have to endure the likes of Soda Popinski, they will face off versus NBA legends like Magic Johnson.
Here's a few bosses we'd love to see in the next NBA Jam expansion pack.
"Pistol Pete" Maravich: A character named "Pistol Pete" would best be suited to appear in classic Western games like Gun.Smoke and Red Dead Redemption, but Maravich would also make a worthy boss in NBA Jam. He was virtually unguardable at LSU where he averaged 44.2 PPG during his college career and picked up where he left off when he got to the NBA. The challenge: Protect the perimeter against one of the NBA's deadliest long-distance shooters. Weakness: Those socks.
1991-1992 Duke Basketball Team: Traditionally, NBA Jam has been a two-on-two affair, but we got our fingers crossed the newest version will give gamers the chance to battle some full teams as well. Love 'em or hate 'em, the 1991-1992 Duke Blue Devils would make a sweet boss. The challenge: There's 2.1 seconds left on the clock and you have to keep Christian Laettner from scoring. Weakness: Good luck.
Harlem Globetrotters: Speaking of teams, why not make the next boss a real challenge. Few games are more classic than NBA Jam and few teams are more classic than the Harlem Globetrotters. No team in basketball history has been more proficient at scoring while using a ladder. The challenge: Try not to get wet. Weakness: Spinning balls on their fingers.
Predrag Drobnjak: Montenegro's greatest forward-center might not be the first name gamers think of when it comes to classic NBA players, but the former Sonic comes with an arsenal of special skills. Namely, fire. Challenge: Score against Drobnjak and his tandem blocker, Space Bear. Weakness: His cat, Jinkies.
Clay Bennett: As long as we're talking Seattle SuperSonics, the ultimate boss would have to be Oklahoma City Thunder owner Clay Bennett. Seattle's greatest villain might not be able to block a shot, but he can move your team out of town. He's the scariest boss of all. The good news is you get to play as Kevin Durant. Challenge: Run up the score until Bennett agrees to finance his own stadium. Weakness: Not a basketball player.