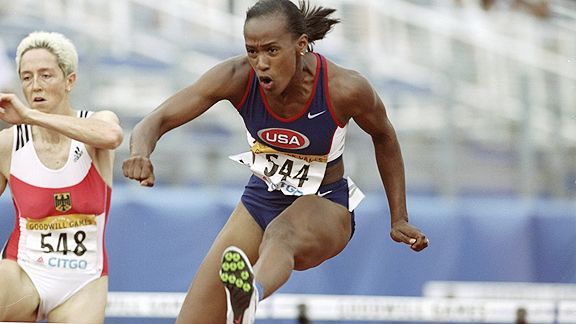 Andy Lyons /Allsport
"This event would be a lot easier without all theses hurdles in the way. Get it? Hurdles. It's an old track joke ... ."
Aug. 2, 1992: Jackie Joyner-Kersee is known as one of the world's all-time greatest athletes, a distinction she earned in large part because of her accomplishments on this date when she won an Olympic gold medal at the 1992 Barcelona games in the heptathlon, a grueling seven-event track competition. With her victory, Joyner-Kersee, who also won gold in the event in the 1988 Seoul Games, became the first athlete to win consecutive gold medals in the heptathlon.
Joyner-Kersee entered the day up 129 points with three events remaining. One of them was her specialty, the long jump. She jumped 23 feet, 3+ inches to expand her lead. She then threw the javelin 147 feet, 7 inches and ran the 800 meters in a time of 2:11.78, giving her 7,044 points, 199 more than silver medalist Irina Belova of Russia.
The UCLA star, who competed in both track and field and women's basketball for the Bruins (she was a starting forward and scored 1,167 career points, 19th on the Bruins' all-time list), also won a bronze medal in the long jump at the '92 Games. In the previous Games (Seoul '88) she won gold in the heptathlon and the long jump. In the 1984 Games in Los Angeles, she silvered in the heptathlon and she added to her impressive collection with a bronze in the long jump in the '96 Games in Atlanta, the last of her career. She finished her Olympic career with three gold, one silver and two bronze medals.