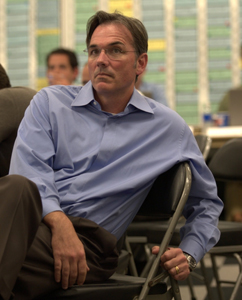 Getty Images
Billy Beane guesses Brad Pitt will do.
Filming for "Moneyball" — the movie based on the book based on the Oakland A's 2002 season under general manager Billy Beane — began last week at Oakland Coliseum (live in the area? Become an extra!). Which means the long-awaited movie, starring Brad Pitt as Beane, as well as Phillip Seymour Hoffman and Jonah Hill, is really gonna happen.
Which is great. But we can't help but thinking past it, to all the baseball story lines from this season that we wish would get played out on the big screen. And to what Hollywood actors and actresses would star in them. Hmmmm ... .
National Treasure III: The of Story Stephen Strasburg
Starring: Robert Redford as Stephen Strasburg (they can do wonders with makeup these days) and Crash Davis as Pudge Rodriguez (No, not Kevin Costner. Crash Davis).
Tagline: No Nicolas Cage, but still plenty of heat
Plot: Watch Strasburg live up to the hype, then (spoiler alert!) go on the DL.
Mad Musings: The Story of Ozzie Guillen's Twitter Feed
Starring: George Lopez (see, he has the baseball chops) as Ozzie and Shakira as Ozzie's wife, Ibis Cardenas (because Ozzie loves him some Shakira).
Tagline: What Will He Say Next?
Plot: You'll be on the edge of your seat as Ozzie uses his infamous twitter feed to fight for justice in the world. Look out umpires and cable giants!
Stop! Or My (Grand)Mom Will Shoot! The Dallas Braden-Alex Rodriguez Feud
Starring: Betty White (she's so hot right now) as Dallas Braden's grandmother, and A-Rod (who is now an actor, apparently) as himself.
Tagline: Don't mess with Granny
Plot: Like Robin Hood before them, Dallas and his grandmother stand up for little guys everywhere.
Revenge of the Nats: The NL Finally Wins One
Starring: Jerry Ferrara as Brian McCann and Brian from "Family Guy" as this dog.
Tagline: Who has World Series home field advantage now, punk?
Plot: McCann leads a rag-tag group of National League All-Stars to their first win at the Midsummer Classic since 1996.