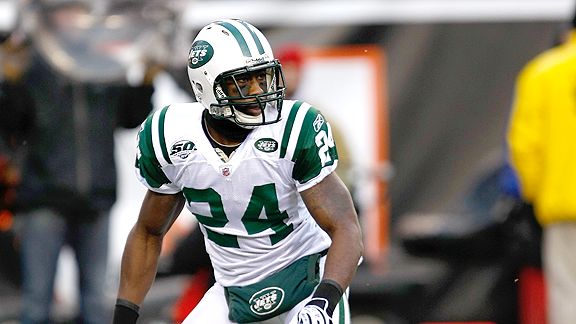 Scott Boehm/Getty Images
Jets CB Revis Holding out from Camp
The holdout period has officially begun for Jets All-Pro CB Darrelle Revis. Unhappy with his current contract, Revis skipped the mandatory team meeting Sunday and did not participate in the morning conditioning run. A statement issued by Revis' agents said they waited until the last minute to try and get something done and added, "Darrelle will not be in camp."
Guillen Says Latinos at a Disadvantage
White Sox manager Ozzie Guillen certainly isn't afraid to speak his mind. He proved it again Sunday saying that Asian players are given privileges in the United States that Latino players are not. Guillen wasn't finished, professing that MLB only cares how much he argues with umpires and what he says to the media.
Welker off PUP List, Practicing Sunday
It's becoming more and more likely that Patriots receiver Wes Welker will be on the field opening day. Welker was removed from the physically unable to perform list and practiced on Sunday. The 2-time Pro Bowler is recovering from a torn ACL and MCL which were surgically repaired on February 2nd.
Haynesworth Knee Still Hurting
Redskins DT Albert Haynesworth's knee wasn't ready to run Sunday. The swollen left knee that prevented Haynesworth from making his 3rd attempt at head coach Mike Shanahan's conditioning test on Saturday also kept him from practicing Sunday. Haynesworth is expected to try again on Monday, if the knee cooperates.
Moreno out 3 Weeks, Buckhalter One Week
Denver Broncos starting RB Knowshon Moreno is expected to miss three weeks after suffering a severe right hamstring injury Sunday. An NFL source told the Denver Post that Moreno's MRI revealed no significant tear to his hamstring. A few minutes later, Broncos backup running back Correll Buckhalter left the field with an upper back injury. He was treated and released from the hospital and is expected to rest the injury for about a week.
Appleby Ends 4-Year Drought with 59
Stuart Appleby made history Sunday, shooting a PGA Tour low 59 during the final round of The Greenbrier Classic. The 39-year-old rolled in an 11-foot putt on the 18th hole to secure just the fifth 59 in the tour's history. It's the second time the magic number has been posted on a Sunday to win a PGA event (David Duval in 1999).
Biffle Ends 64-race Skid with Win at Pocono
Injured owner Jack Roush couldn't be at Pocono Raceway on Sunday but his driver, Greg Biffle, delivered a long-awaited victory in a caution-filled slugfest. "This one's for Jack," Biffle said. "We know he's watching, and we're thinking about him." The win ends Biffle's 64-race winless streak. Tony Stewart finished second.
Strasburg Reports No Problems Playing Catch
Stephen Strasburg played catch Sunday for the first time since being placed on the DL with shoulder inflammation July 29. The rookie threw two sets of 25 pitches in right field and reported no pain. Nationals manager Jim Riggleman said he hopes that Strasburg will be able to pitch on Washington's next homestand, which begins on Aug. 10. Strasburg is 5-2 with a 2.32 ERA in nine starts.
Howard Hurts Ankle Getting back to Base
Philadelphia Phillies first baseman Ryan Howard left Sunday's 6-4 win over Washington with a sprained left ankle. Howard was injured as he scrambled back to second base after a throw from Nationals right fielder Michael Morse. X-rays were taken on both his ankle and elbow, both were negative. Howard is batting .292 with 23 home runs and 81 RBIs.
Star Prospect Hellickson to Start Monday
Jeremy Hellickson, the top pitching prospect in the Tampa Bay Rays organization, is being called up to the big leagues to start Monday's game against the Minnesota Twins. Hellickson is 12-3 with a 2.45 ERA for Triple-A Durham this season.