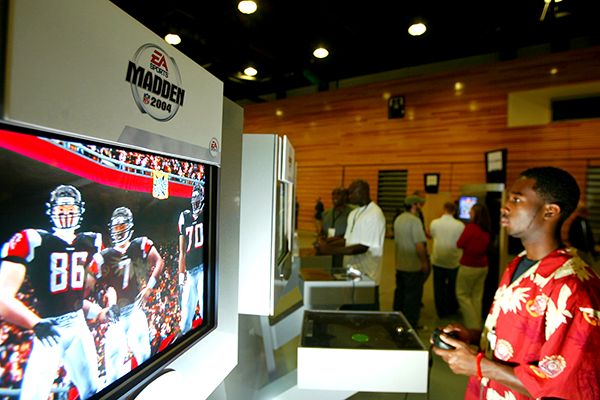 AP Photo/Eric Risberg
The Madden franchise has been around almost as long as these shirts have been considered the least successful way to attract women ever.
We asked the ESPN Facebook fans to name the greatest video games of all time (if you haven't already Liked the page, what gives!). Several classics were named - Madden seems to be a perennial favorite, in fact "favorite Madden year" could be a debate in itself - but there were others. From 8-bit graphics to the Blu-ray playing consoles of today, it seems that every sports fan has his or her favorite game although we do wish we'd seen a few more fans singing the praises of Wrestlemania. While the debate will surely rage on for months to come, we've selected our favorite nominees so far.
Remember the early Madden ambulance? Neither did we. You see, in 1992 if a player was injured, an ambulance would just drive straight onto the field. And said ambulance wouldn't pay any attention to the players on the field, either. Just another aspect of the NFL meticulously captured by the accurate gameplay of Madden '92.
Much like Odegei Khan succeeded his father, Genghis Khan, the great Tecmo Bowl was the precursor to today's Madden Empire. Several fans wrote that without it, there would be no modern sports games (although a few RBI Baseball aficionados might disagree). With the 100-yard touchdown pass a routine play, defense didn't seem to matter much in this classic NES game - particularly when you had Bo Jackson running it back from the endzone.
Although one fan argued that without Gridiron Fight, there would be no Tecmo Bowl. And we assume, with no Tecmo Bowl, no Madden. And with no Madden, there would be no Madden ambulance montage YouTube videos. Oh, the humanity.
And of course, there's also Mike Tyson's Punch-Out! and NBA Jam. Punch-Out! just received a remake last year and the new NBA Jam is forthcoming, proving that they may actually make 'em like they used to but sentimental favoritism doesn't always get passed on.
And speaking of not making 'em like they used to, facebook would love to see Base Wars make a comeback. There are still plenty of robot video games and tons of baseball video games to choose from these days, but there just aren't enough "robots playing baseball" games out there. Ah the good old days.