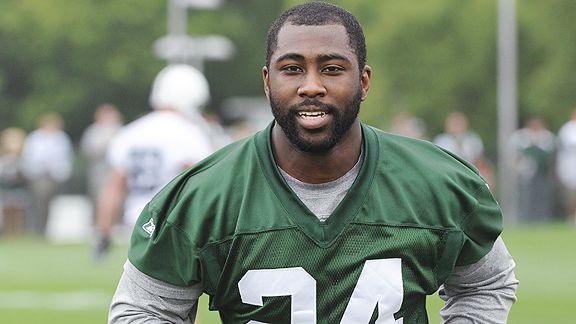 AP Photo/Bill Kostroun
Jets Practice Minus Darrelle Revis
The New York Jets have completed their first training camp practice without star cornerback Darrelle Revis. Revis is holding out in a contract dispute. He is scheduled to make $1 million in the fourth year of his six-year rookie deal. Team owner Woody Johnson told our Sal Paolantonio the Jets plan to reach out to the Revis camp sometime within the next day, hoping to start bridging the gap. But he acknowledged that it will be very difficult to structure a deal that would give Revis what he wants -- to be the highest paid cornerback in the league.
Knee Won't Allow Haynesworth To Finish Test
This time, Albert Haynesworth started but had to stop. The two-time All-Pro defensive tackle tried to take the Washington Redskins' conditioning test again Monday morning, but he pulled up after three back-and-forth sprints because he felt some irritation in his left knee.
Brewers, Corey Hart Agree To 3-Year Extension
Brewers' outfielder Corey Hart has signed a 3-year, $36 million dollar extension to remain with the club through the 2013 season. The 28 year old is batting .288 with 23 homers and 72 RBI in 92 games this season. Hart had been mentioned along with teammate Prince Fielder in many trade rumors approaching last week's trade deadline. He now appears to have a long-term future with the Brewers. After a disappointing spring training performance that put his starting spot in jeopardy, he rebounded to make the All-Star team.
Giving his first news conference since April, Penn State's Joe Paterno said Monday that he feels "really good" after battling illness during the offseason and plans to be in his normal routine for the 2010 season. The 83-year-old Hall of Famer had vision surgery earlier this year. Paterno canceled the three stops on his post-spring booster club tour as he dealt first with intestinal flu and later with an adverse reaction to an antibiotic. A reporter suggested to Paterno that he'll coach until the day he dies, which drew a smile from the octogenarian, who is entering his 45th season as head coach in Happy Valley and 61st overall on the staff. Paterno said, "Right now, I have no plans whatsoever, whether I'll go another year, two years, five years, whatever."
Former Oregon quarterback Jeremiah Masoli says he intends to continue his football career at Ole Miss. Masoli led the Ducks to the Rose Bowl before getting kicked off the team this summer after run-ins with police. Coach Houston Nutt said he stressed to Masoli that he would be under the "highest scrutiny." "The rules are going to be different for him," Nutt said. "I told him I have zero tolerance. I have a hair-trigger. I know he knows I will pull the trigger so fast."
Lance's Attorney: USADA Offering Riders Deals
Lance Armstrong's attorneys say the U.S. Anti-Doping Agency is offering cyclists a "sweetheart deal" if they testify or provide evidence that the seven-time Tour de France winner cheated by doping. Attorney Tim Herman told The Associated Press Monday that if riders have been caught doping themselves, the deal from USADA could result in a reduced ban from competition and other incentives. Federal investigators in Los Angeles are looking at cheating in professional cycling. They have shown interest in Armstrong since former teammate and 2006 Tour de France winner Floyd Landis alleged this spring that Armstrong and others took performance enhancing drugs, which Armstrong strongly denies.
Ravens Trade QB John Beck To Redskins
The Baltimore Ravens announced they've traded former BYU QB John Beck to the Washington Redskins for CB Doug Dutch. Dutch was undrafted CB out of Michigan in 2009. He was on Redskins practice squad last season. Beck was a former 2nd round draft pick of the Miami Dolphins and he goes from clearly being the odd man out with the Ravens to seeking backup work behind Donovan McNabb.
Jets' Kris Jenkins Wins Weight-Loss Contest On Cookie Diet
Kris Jenkins, the Jets' hefty defensive tackle won a weight-loss competition with coach Rex Ryan and right tackle Damien Woody, shedding 33.6 pounds and showing up at training camp Sunday at a svelte 359. Woody finished second by dropping 26.2 pounds to report at 340, while Ryan was down 20 since issuing the challenge to the two players.
The Chicago Blackhawks have signed veteran goaltender Marty Turco to a one-year deal, parting ways with Stanley Cup-winning goalie Antti Niemi. He is just the latest player to leave the Blackhawks because of the major salary cap issues the team is facing in the aftermath of its first Stanley Cup title since 1961. Without Niemi on the roster and Cristobal Huet expected to be sent down to Rockford of the AHL, Turco could be the number one goalie heading into the start of the 2010-11 season.