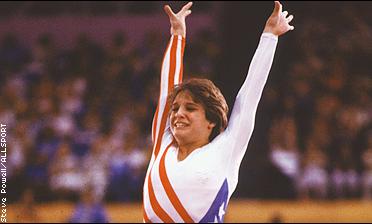 Sadly, there was no "Dancing With The Stars" in 1984, making it impossible for Mary Lou to parlay her Olympic fame into a successful reality TV career.
Aug. 3, 1984: No American gymnast - male or female - had ever won an Olympic gold medal heading into the 1984 Games in Los Angeles. Today, Mary Lou Retton became the first in pretty much the most dramatic way possible. In doing so, she became the first American woman to win a medal of any kind in gymnastics.
The then-16-year-old Retton, a bubbly fan favorite, had been trading the all-around lead with Romania's Ecaterina Szabo. Retton had a few bobbles on the beam (she got a 9.80) but made up ground on the floor (10.0) and entered her final rotation trailing Szabo by only .050 points. Szabo was up first in the final rotation and scored a 9.90 on her event, the bars, giving her a final score of 79.125 points. That meant Retton, heading to the vault, knew a 9.95 would allow her to tie for first. A 10 would give her sole possesion of the gold medal.
Before walking to the vault, Retton looked at her coach, Bela Karolyi, and said "I'm going to stick it." And she did. Retton executed a perfect full-twisting layout double Tsukahara (you know, this) then raised her arms in the air while grinning ear-to-ear. She would earn a 10, the historic gold medal, and her place in Wheaties box history.