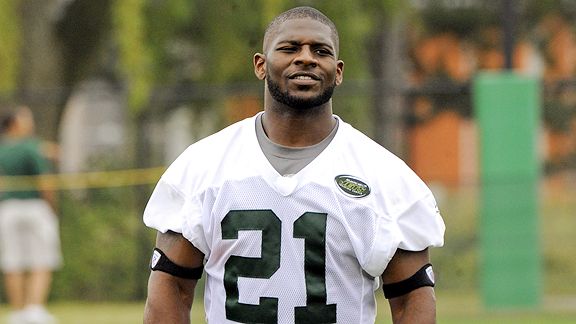 PARTING SHOTS AT L.T.
LaDainian Tomlinson is expected to back up Shonn Greene at running back this season for the Jets. He says he's happy with that role, but his former teammates with the Chargers don't sound so sure about that. Especially after he slipped behind Darren Sproles in San Diego. Philip Rivers told the Union-Tribune, "That got real touchy the last 18 months." And he added the team won't miss his demands to be treated like a star. "I don't know how everyone feels or if they felt it," Rivers said. "Maybe it was a little bit of a relief. Maybe it's a feeling of, 'I can do a little more without wondering what he thinks.'" And Antonio Gates took it from there. "Sometimes you would get the sense that people felt bigger than the team," he said. "Not to say it was an issue, but we know it's not an issue for sure now."
More of what's happening At This Hour, including the latest in the ongoing Albert Haynesworth fitness saga, and Ozzie finding out who doesn't have his back, after the jump.
HAYNESWORTH UNFIT FOR FITNESS TEST. AGAIN.
Six days in, and Albert Haynesworth still hasn't passed the fitness test that would allow him to start practicing with the Redskins. He did not make an attempt to pass it before this morning's session, a day after he aborted the same test due to knee irritation. He did participate in a solo walk-through of some plays.
WHITE SOX DON'T SUPPORT OZZIE
It's rare when a club issues a statement that doesn't back one of its employees. Especially when one has taken a high-profile stand against a perceived bias. But that's what the White Sox have done with Ozzie Guillen and his position that Major League Baseball is biased against Latino players. In a statement issued yesterday, the club said, "This is an issue Ozzie Guillen obviously feels very passionately about. Ozzie certainly has his own experiences as a player, coach and manager, and is entitled to his own opinions, but the Chicago White Sox believe his views are incorrect."