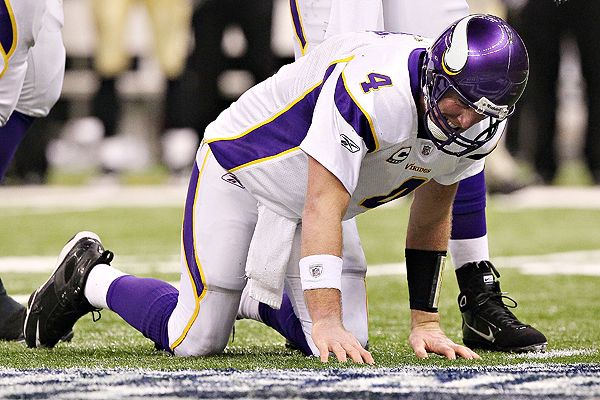 Jed Jacobsohn/Getty Images
"Argh! I know I brought my "Third Times A Charm" speech out here with me. I wonder if it slipped out while I was busy gunslingin'."
We're hoping this post isn't outdated in a couple of hours, but for now Brett Favre looks to be calling it a career. After 19 years of pro football and just about every major quarterback record, the 40-year-old Favre has informed the Vikings he plans to retire. Tough break for all you fantasy gurus who spent early picks on Vikes wideouts Sidney Rice and Percy Harvin, but great news for Albert Haynesworth who finally gets a break from the media.
So what's everyone's take on Brett Favre's third retirement? We journeyed throughout the wide world of Twitter to find out.
Jay Glazer of FoxSports refuses to buy the latest Favre news while Bill Simmons is willing to wager money that Favre will be under center for Minnesota this season ...
@Jay_Glazer: Until I do not see favre under center for the first game of the season I won't believe he's finally done. Vikes owners will make a good push
@sportsguy33: Where can I bet that Favre is coming back during the 2010 season? Just give me odds. This is a lay-up. Free money.
Matt Marta of Minneapolis shared a similar opinion to the aforementioned sportswriters ...
@mjm_mn: The only way that Favre will convince me that he is retired for good is if he sits out the entire season. And the next. Then one more.
And we can understand him being a little skeptical. ESPN's Drew Litton summed up the opinion of many Vikings' fans with his most recent cartoon:
@DrewLitton: New Drew toon on Brett Favre let his retirement decision drag on and on and on. http://es.pn/cac5Tr
And we sympathize with Vikings' fans. As ESPN's Adam Schefter deftly pointed out:
@Adam_Schefter: Had Favre retired after season, Minnesota's quarterback this season could have been Donovan McNabb, Jason Campbell or Marc Bulger.
So there's that. As for Reggie Bush of the Saints, he's still planing on seeing Favre in uniform when Minnesota and New Orleans kick off the NFL season on September 9th ...
@reggie_bush: Brett Favre suppose to make 13Mill this year...enough said! We'll see him September 9th in the Superdome!
Packers linebacker Nick Barnett believes Favre is done with football, but thinks the former quarterback is about to join a supertrio of friends down south ...
@NickBarnett: You guys thought Brett was retiring huh... Wow he actually just signed with the Miami heat now going wade
And while we're on conspiracy theories, Jordan Cole of Birmingham, Alabama has one of his own ...
@jordancole23: Speculation of Brett Favre's ties with Coach Sullivan are true only furthering the possibility of him quarterbacking the Bulldogs next fall.
Or maybe Seth Meyers has it right and this is a warning sign that the world is about to end ...
@sethmeyers21: Favre retiring for third time. Only 2 more until the apocalypse.
Judging from Serena Williams and Andy Roddick's comments, the tennis world is really shaken up about the news ...
@andyroddick: "favrecenter" 2010 has begun.. im 0 for 3 apparently.. had him retiring last 2 off-seasons and had him coming back this year... DOH!
@serenajwilliams: Am I the only one who's eyes are watering. BrettFarve is great!!! Hate to see an era end...
If Favre's retirement is real, nobody will be more upset than Ragnar The Viking. Just ask Ashton Kutcher ...
@aplusk: Boy the Viking must be pissed
Of course, there's nothing we like better than when someone can cleverly parlay one news story into another.
@MacGregorESPN Pacing back and forth as he decides retirement, Favre accidentally completes Redskins conditioning test
But as Henry Sure of New Orleans points out, we may not know Brett's true intentions until he hosts a two-hour special ...
@HenrySure: This just in: Favre to confirm or deny retirement rumors on a two hour TV special.
Well played Henry, well played.