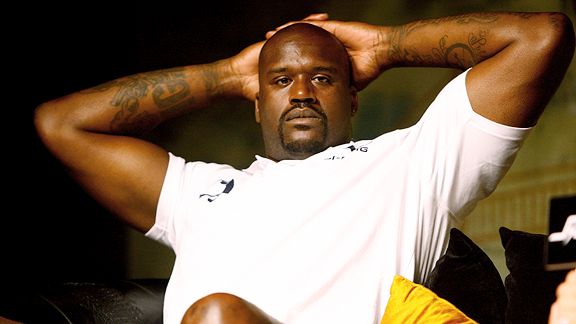 Getty Images
You can sit back and relax, Shaq. We've got this whole nicknaming thing covered for you.
The Irish eyes are smiling in Boston today as one of their own, Shaquille O'Neal, officially joined the Celtics. While we wait to see Shaq in Celtics' green, there's another pressing matter to settle: what do we call Mr. Shaquille Rashaun O'Neal now that he'll be in Boston? The man who has been previously known as Shaq-Diesel, The Big Aristotle, and The Big Shaqtus (in Phoenix) is in serious need of a new nickname.
Our friends over at the Boston Celtics Blog on ESPNBoston.com set out on a mission this morning to give Shaq a new handle, and "The Big Leprechaun" has jumped out to a lead in the voting. Meanwhile, we're favorable to "The Big Shamrock," "The Big Chowda" or "Bigger Papi." We also thought it would be fun to see if the Twitterverse had any thoughts on the matter. We asked our fans on Twitter what @THE_REAL_SHAQ should call himself in Boston, and you guys certainly did not disappoint.
Here are our favorite responses (after the jump), in no particular order:
@cistocraig: maybe 'unleaded' b/c he definitely isn't the diesel anymore.
@Big_Rod_1: The Big Shillelagh!
@DubMcFly: The Big Baked Bean
@COACHOILER: The Green Mantern
@blinnkk: The Green Monstahh...
@jboomer: Former Laker in Boston? The Big Shaqrilege.
@Brad_is_rad: The Big Shaqachussetts
@kateromero_pix: Jolly Green Giant!
@FantheUICFlames: The Giant Shaqrechaun
@dbonifant: The Big Revolutionary
@tomgrahammusic: Saint Shaqrick!
Did we miss any awesome nicknames? Feel free to tweet us your suggestion or leave a comment below.