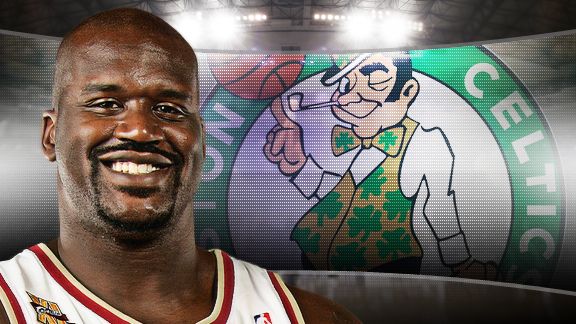 ESPN.com Illustration
Celtics Sign Shaq To Reinforce Inside Presence
It's official -- the Boston Celtics announced today that they have signed free agent center Shaquille O'Neal. One of the 50 Greatest Players in NBA history (he was youngest member of this team, at the age of 24, when it was named in 1996), O'Neal also is one of just three players in NBA history to be named league MVP, All-Star Game MVP and Finals MVP in the same season (1999-2000). "I am honored to be joining the Celtics," said O'Neal. "I have played against Paul, Ray, Kevin, Rajon, and Jermaine for many years and it will be great to be able to call them my teammates. I cannot wait to get to Boston to get started in pursuit of another championship." Sources say the deal is for 2 years, approximately $3 million total.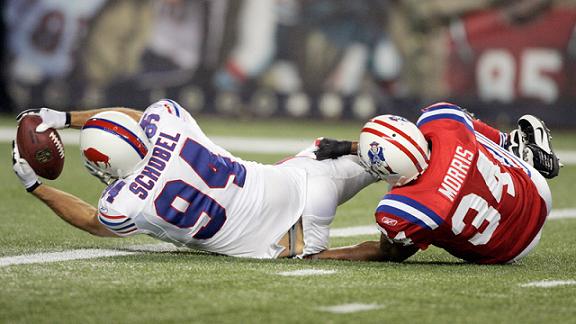 AP Photo/Steven Senne
Bills Cut Schobel; Agent Says He'll Play In 2010
Calling it "the fair thing to do," the Buffalo Bills released top pass-rusher Aaron Schobel on Wednesday, providing the veteran linebacker the opportunity to sign with another team or retire. Schobel's agent, Jeff Nalley, told ESPN NFL Insider Adam Schefter that Schobel intends to play in 2010. The move comes two days after the Bills said the team was moving on without Schobel, who spent the offseason contemplating retirement.
Jury Begins Deliberating In Pitino Extortion Case
A jury on Wednesday started deliberating the fate of a Kentucky woman accused of demanding millions from Louisville basketball coach Rick Pitino to keep quiet about their sexual tryst. Karen Cunagin Sypher has pleaded not guilty to extortion and other charges. She did not testify in her own defense, and her attorneys rested their case without calling any witnesses. If convicted, Sypher could face prison time.