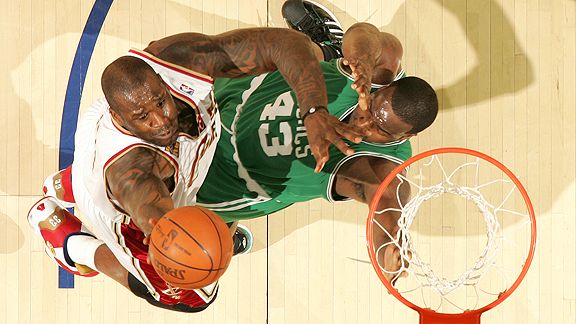 Nathaniel S. Butler/NBAE via Getty Images
Shaq and Big Baby, together at last.
The dog days of August are finally here, the MLB trade deadline has come and gone, and A-Rod (finally) hit home run number 600. Now, everyone is talking about...basketball? Naturally. And while you await the official decision of what moniker Shaq will adopt in his new hometown of Boston, we've put together our weekly shopping list so you don't miss out on the best schwag the wide world of sports has to offer.
A 7'1" NBA legend that can dunk without jumping on his way to historic Boston? Well, it looks like now's as good a time as any for the Tip-in O'Neal welcoming party. For the 5% of Bostonians who don't already own a personalized O'Neal Celtics jersey, you can get yours before they're official. Whoops, too late.
Meanwhile, the Pro Football Hall of Fame induction ceremony is on Saturday, and with the advent of chip-in-ball technology football continues its slow, inexorable run to becoming a sport played not by men, but by robots. So why not get ahead of the trend with your own Washington Redskins robot figurine, or as it will be known when it takes the field in 2035, Autobot Numero Ochocinco. We're already looking forward to the programmable touchdown celebrations.
On the diamond this weekend, the Red Sox and Yankees meet up for a four-game series in the Bronx. But take solace Tampa Bay fans, you might not get all the press coverage, or all the AL East love, but the Rays are still tied for first with the Yankees in the win column and the standings are all that matter. As the Rays visit Toronto over the weekend, Tampa Bay fans might want to dust off those '08 World Series caps. The AL East champ has represented the American League in the last three World Series but the Rays are the only team of that group that failed to win the rings. Maybe this is their year? You gotta believe...
And last (and certainly not least), UFC 117 throws down this weekend with middleweight champion Anderson Silva facing challenger Chael Sonnen - he of bizarre interviews. Saturday evening's pay-per-view event is bound to be entertaining and after the event is over, MMA fans will need something to fill the void. Thematically, P.T. Anderson's 2007 film, "There Will Be Blood" might fit the bill nicely. Hey, it sounds like an UFC fight. And after all the shopping you'll have this weekend, it'll feel quite nice to take a movie break.