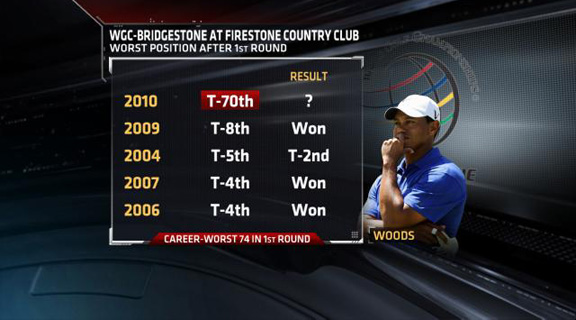 TRACKING TIGER'S SLUMP: Tiger being tied for 70th after 1 round at the WGC-Bridgestone is the absolute definition of his slump. This is the 9th time he's played the event at this course, and his previous worst spot after the 1st round was tied for eighth. That was last year, and of course, he came back to win. Every other time, he's been in the top 5 after round 1.
WGC-Bridgestone Leaderboard | Tiger posts his worst-ever round at Firestone Video | Tiger Tracker | Tiger Woods coy about Ryder Cup
After the jump, find out what it will take for Phil Mickelson to take over the number one spot, what it means for the Broncos now that Elvis has the left the building.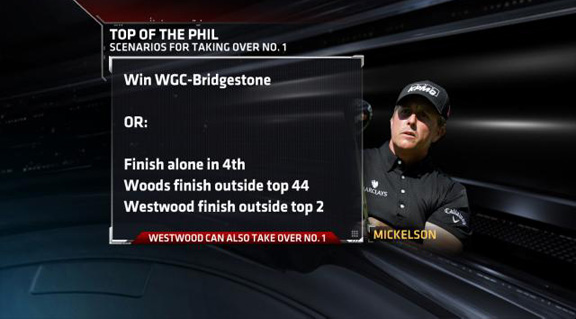 QUEST FOR NUMBER ONE: Phil Mickelson can certainly take over the top spot in the Official World Golf Rankings this week. He's currently tied for 2nd. If he wins the event, he's the new number one. The minimum he needs to do is finish alone in 4th and see Tiger finish outside the top 44 and Westwood finish outside the top 2. If the Tournament were to end now, Lefty would be your new number one.
PGA Tour Money Leaders - 2010 | Ryder Cup Standings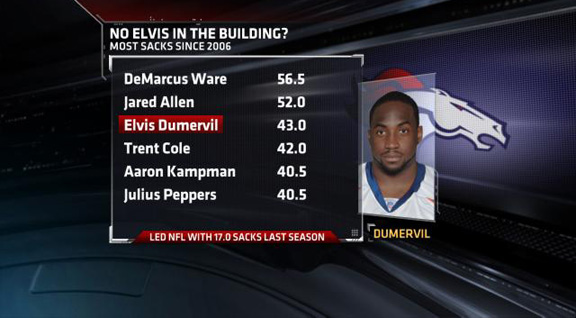 TOUGH BREAK: Here's a look at the production that the Broncos will be missing without Dumervil on the field. Since Dumervil's debut in 2006, only DeMarcus Ware and Jared Allen have sacked the quarterback with more regularity. A fact which led Denver to sign Dumervil to a 5-year extension worth more than $58 million last month.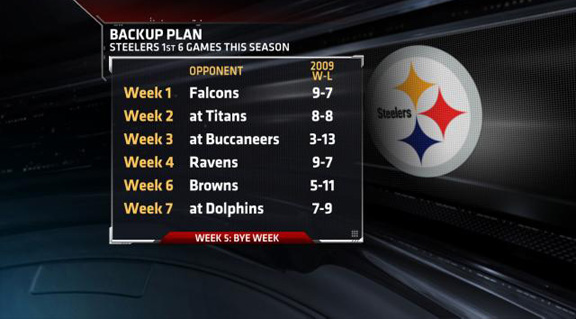 BACKUP PLAN: Unless Ben Roethlisberger's suspension is reduced by Commisioner Roger Goodell, here are the games he is set to miss. Falcons in the opener, road games at the Titans and Buccaneers. Week 4 they play the Ravens before a bye in Week 5. After the bye, they have the Browns and then the Dolphins.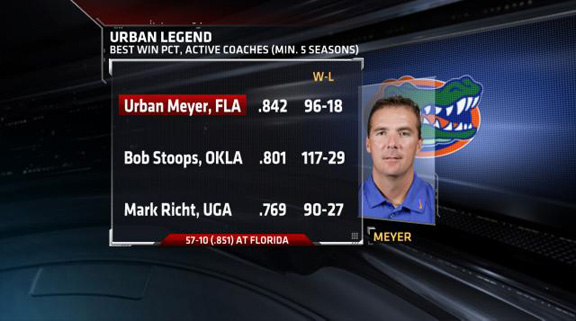 URBAN LEGEND: Urban Meyer has a .842 winning percentage in his head coaching career. That is by far the best among active coaches, 40 points higher than Bob Stoops in 2nd place.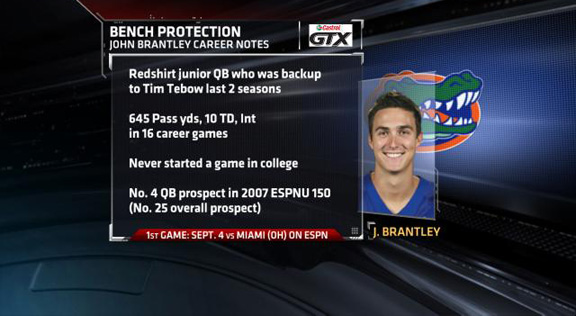 REPLACING SUPERMAN: Florida quarterback John Brantley will finally get his chance to be a starter. He's appeared in 16 games in his career as a backup to Tim Tebow but he's never started a game. He has completed 75 percent of his passes for 645 yards with 10 touchdowns and just 1 interception. He'll get his 1st start on September 4th vs Miami-Ohio on ESPN.