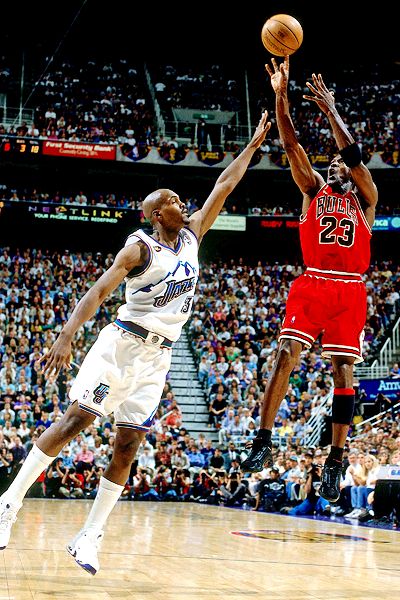 Photo: Nathaniel S. Butler/Getty Images
Russell thinks, "What I wouldn't give to have a DeLorean and some plutonium."
Whether it was making a bad first impression or forgetting to take the plastic off the roast beef before baking it, most of us would love to have a mulligan for something we've done in our past; for Bryon Russell it was guarding MJ in Game 6 of the '98 Finals when Jordan sunk the game winner for ring number six.
And while the rest of us will have to live with our bad first impressions and plastic roast beefs forever, Russell has been given a 2nd chance at redemption. Brandt Andersen, owner of the NBA D-League's Utah Flash has offered up a $100,000 check to the winner of an MJ-Russell one-on-one matchup (according to ESPN's TrueHoop blog). The game would be played at halftime of the Flash's home opener on Monday and the money would be donated to the winner's charity of choice.
Russell has already started trash talking in an effort to motivate MJ to take the challenge. When asked about guarding Jordan, Russell said, "Mike killed me? No, Mike didn't. Mike got D'd up." Russell believes the entire sports world wants to see this match-up, noting, "This could be bigger than the O.J. trial." Apparently, that's the barometer by which "bigness" is now measured.
Not to get all Mr. Destiny on you, but if Russell played MJ and rewrote the history books, would he still be the same old Bryon? Instead of the Jordan logo, would we be wearing purple # 3's on the back of our sneakers? Is Russell ready to go all Vincent Chase on us and house Jeff Hornacek, Greg Ostertag and Howard Eisley at his new palace if he dethrones MJ?
More importantly, could this be the main event to an undercard featuring the Chris Johnson & Rajon Rondo foot race?