2010 Pro Football Hall of Fame Enshrinement
7:00 PM ET -- Canton, Ohio -- ESPN
Top Things To Know
1. The Pro Football Hall of Fame Class of 2010 consists of 7 members (G Russ Grimm, LB Rickey Jackson, DB Dick LeBeau, RB Floyd Little, DT John Randle, WR Jerry Rice and RB Emmitt Smith). The honor roll for the hall now stands at 260.
2. 2010 marks the fifth consecutive year that the Pro Football Hall of Fame has had at least 6 enshrinees.
3. The 7 members of the Pro Football Hall of Fame Class of 2010 members combined to play 98 seasons and 1,417 games (200-plus games by Jackson, Randle and Smith, 303 by Rice).
4. The 7 members of the Pro Football Hall of Fame Class of 2010 members were named to a combined 46 Pro Bowls and played in 12 Super Bowls (winning 10).
5. Notable first-timers for eligibility in 2011 are RB Marshall Faulk, RB Curtis Martin, RB Jerome Bettis, CB Deion Sanders, T Willie Roaf, QB Doug Flutie and Coach Dick Vermeil.
Rice, Smith Highlight 2010 Class | Inside Hall of Fame Gallery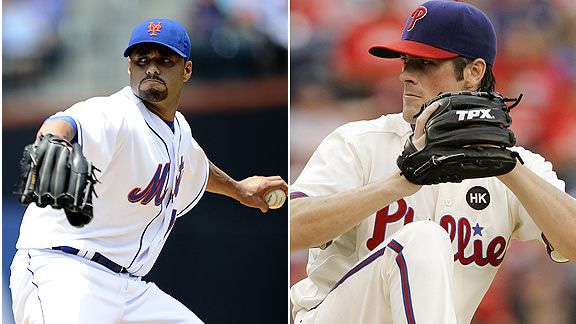 Icon SMI/US Presswire
New York Mets (54-55) at Philadelphia Phillies (61-48)
7:05 PM ET -- Citizens Bank Park, Philadelphia, Pennsylvania
Starting Pitchers
New York: Johan Santana (8-6, 3.20 ERA)
Philadelphia: Cole Hamels (7-7, 3.56 ERA)
There's no place like home, especially for the Phillies. Philadelphia is riding a 12-game home winning streak tonight against the visiting Mets. Cole Hamels will take the ball for Philadelphia, looking for his first decision in four chances since the break. The left-hander is 2-2 with a 2.70 ERA against the Mets at Citizens Bank Park. Johan Santana is on the hill for the Mets, and can avenge his last visit, a loss, to Citizens Bank Park May 2. The Phillies scored nine times in the fourth inning in an 11-5 win. Santana allowed 4 HRs in 3 2/3 innings. He is 0-1 with a 7.82 ERA in his last 2 starts.
Game Preview: NYM vs PHI
Chicago White Sox (62-47) at Baltimore Orioles (36-73)
7:05 PM ET -- Oriole Park at Camden Yards, Baltimore, Maryland
Starting Pitchers
Chicago: Gavin Floyd (7-8, 3.54 ERA)
Baltimore: Kevin Millwood (2-11, 6.05 ERA)
The Baltimore Orioles are undefeated under new manager Buck Showalter. Kevin Millwood can help his skipper win a fifth straight game tonight. Only one Orioles manager has won his first 5 games with the team: Hall of Famer Earl Weaver in 1968. Tonight's win won't be easy, especially if Millwood's recent struggles continue. He has a 9.18 ERA in his last 10 starts, allowing 11 HRs over that stretch. To make things worse, he's 1-5 in 10 career starts vs the White Sox. Chicago counters with Gavin Floyd who has not yielded more than one earned run in six consecutive starts and is 5-2 with a 1.06 ERA in his last 11. The White Sox have been one of the hottest teams in the majors since June 8 with a 38-14 record, but they have dropped eight of 14 on the road.
Game Preview: CHI vs BAL
Note: The Elias Sports Bureau and ESPN Stats and Information group contributed to this report.