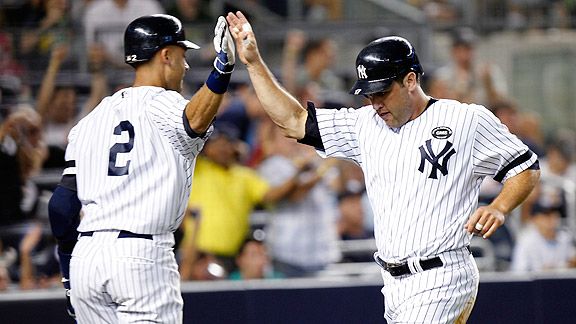 William Perlman/US Presswire
Jeter, Yankees Defeat the Red Sox 7-2
Derek Jeter belongs in the same breath as Babe Ruth. Jeter passed Ruth on the career hits list while adding 3 RBIs in Sunday night's 7-2 victory over Boston. Dustin Moseley successfully replaced an injured A.J. Burnett, who missed the game because of back spasms. Alex Rodriguez returned to the lineup after missing Saturday's game when he was struck by a Lance Berkman liner during BP. A-Rod went 1-3 with a walk and recorded his 300th career stolen base.
Tiger's Tough Day at Bridgestone
Tiger Woods finished his worst event as a professional golfer Sunday at the WGC, tied for 78th of 80 golfers. Woods shot a 7-over 77 to complete the highest 72-hole score of his career (+18, 298). Phil Mickelson finished tied for 46th (+3). Hunter Mahan won his 3rd career PGA Tour event, finishing -12. Mahan also shored up a spot on the US Ryder Cup team.
Jays' Morrow Has 17 K's But Loses No-No in 9th
Close, but no cigar. Toronto Blue Jays pitcher Brandon Morrow lost a no-hit bid with two outs in the ninth inning on a single by Tampa Bay 3B Evan Longoria. Morrow then struck out his 17th batter of the game to finish off a 1-0 one-hitter victory over the Tampa Bay Rays.
Terrell Owens on His Dallas Departure: "It wasn't my fault"
The NFL is back. The Preseason opened with the Hall of Fame Game in Canton, OH. The Dallas Cowboys defeated the Cincinnati Bengals 16-7. Dallas QB Tony Romo completed 5 of 10 passes for 59 yards. Terrell Owens had two receptions for 18 yards in his Bengals debut. Sunday morning Owens told reporters he believes he should still be in Dallas.
Atlanta Falcons WR Jenkins out 4-6 Weeks with Shoulder Injury
The injury bug has hit the Atlanta Falcons. WR Michael Jenkins will miss four to six weeks with a right shoulder injury, suffered during the team's scrimmage Friday. Jenkins, who is entering his seventh season, has appeared in 92 games with 235 receptions for 3,007 yards and 18 TDs.
Jarmon Fortson Dismissed from Team
Jarmon Fortson is no longer a part of the Florida State football team. "He has been dismissed for a violation of team rules," head coach Jimbo Fisher said. "We wish him the best in everything he does. We love him." Sources close to the situation told ESPN.com that Fortson was dismissed for multiple failed drug tests.
Barack Obama Plays with NBA All-Stars
Pick-up game, anyone? LeBron James, Dwyane Wade, Carmelo Anthony and other NBA all-stars and legends joined President Barack Obama Sunday to entertain wounded troops. The game was played for a group of "wounded warriors" - troops injured in action - and participants in the White House's mentoring program.
Tina Thompson Sets Scoring Mark
Tina Thompson made WNBA history Sunday, becoming the WNBA's all-time leading scorer. The Los Angeles Sparks forward scored in the third quarter against the San Antonio Silver Stars, surpassing Lisa Leslie, who retired last season, by ten points. Thompson, who is the last of the original WNBA players, has scored 6,273 points.
Montoya Tames the Glen for 2nd Career Win
Juan Pablo Montoya erased 113 races of futility Sunday. Montoya pulled away on a late restart from Marcos Ambrose and beat Kurt Busch by 4.7 seconds in the 90-lap race around the 11-turn, 2.45-mile layout.
Chris Coghlan to Have Knee Surgery
The Florida Marlins could be without left fielder Chris Coghlan for the rest of the season. Coghlan will undergo left knee surgery Wednesday after being hurt during a victory celebration. The 2009 NL Rookie of the Year said recovery time following surgery is four to eight weeks.
The Associated Press contributed to this report.