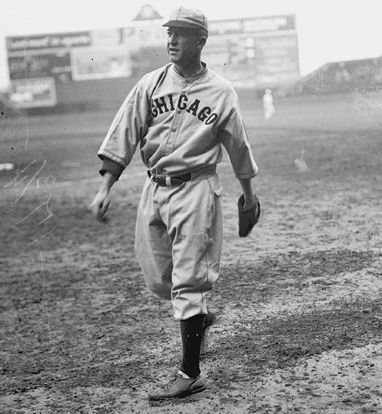 Chicago Historical Society
Grover Cleveland Alexander won 373 games in the National League, exactly 373 more than President Grover Cleveland.
August 10, 1929: Grover Cleveland Alexander hurls the final victory of his 373-win career, throwing four innings of relief against the Philadelphia Phillies to lead the Cardinals to an 11-9 win at the Baker Bowl.
Alexander began his Major League career pitching against the Athletics during the 1911 preseason's Philadelphia City Series. His first official start came on April 15, 1911 when he threw a complete game against the Braves, losing in the 10th inning. He would spend his entire 20 season career in the National League, pitching for the Phillies, Cubs and Cardinals before playing a few seasons with the semi-pro House of David. A year after earning his final win, the Nebraskan right-hander ended his career where it all began with an 0-3 stint for the Phils.
His 373 wins share the record with Christy Mathewson for most wins ever in the National League (and third in the Majors overall). Alexander's overall record stands at 373-208 - a .642 winning percentage. He had nine 20-win seasons, including three 30-win seasons in a row (1915-17). He helped take the Phillies and Cubs to the World Series in 1915 and 1918, respectively, but he didn't win the World Series until the tail end of his career with the Cardinals in 1926.