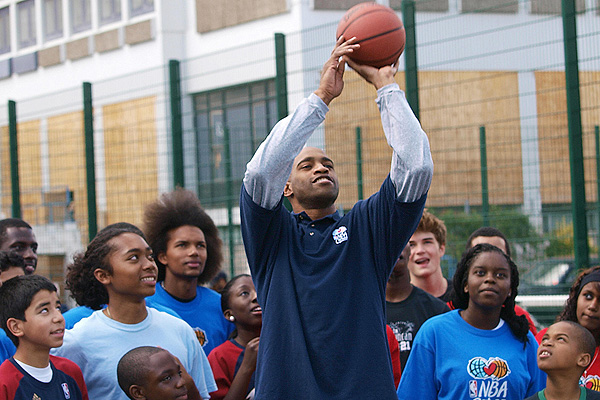 Max Nash/Getty Images
Back in '08, Vince Carter introduced the concept of using your hands in ball sports to kids in South London.
In the next phase of its plans for international domination, the NBA will hold regular season games in London as the Raptors play the Nets on March 4 and 5 this coming season. It's the first time the league has played "for real" in Europe, having traveled overseas for preseason games in the past.
It's no coincidence that England's capital is the site for such an occasion. First, it puts hoops squarely on Londoners' minds during the buildup for the 2012 Olympics. Second, the British have had a long and distinguished impact on the sport since its beginnings. We're not just talking about Ben Gordon, Luol Deng, Michael Olowokandi, John Amaechi and other loyal citizens of the crown who've thrown it down Stateside. Here are some other brilliant things the UK has blessed basketball with:
The Good Doctor
James Naismith, the man who was credited for inventing the first American football helmet as well as transforming peach baskets into goals, was born in what is now modern-day Ontario on Nov. 6, 1861. The grandson of Scottish immigrants, he didn't become a naturalized American citizen until 1925, some 34 years after inventing the game. So, in a roundabout way, hoops has British origins.
The Imperial Measurement System
Ten-foot rims and 15-foot foul lines sound a lot cooler than they would under the metric system.
The Best Hybrid of Hoops and Soccer Skills Since Hakeem Olajuwon
Another transplant with a Canadian connection, two-time MVP Steve Nash, was actually born in Johannesburg, South Africa to a Welsh mother and English father. Many have attributed Nash's court vision to his affinity for The Beautiful Game and his dad's homeland for a tragic love affair with England's national team.
Arena Foods
Before you bite into that Kings Dog at ARCO Arena, give thanks to bangers and meat pies as the original spectator sport fare.
A New Pregame Interviewing Style
Thanks Ali G, you've taken the art of the locker room chat to a different level. It's British comedy's greatest contribution to the game since the Benny Hill Theme "Yakety Sax" became the soundtrack to homemade trick videos everywhere.