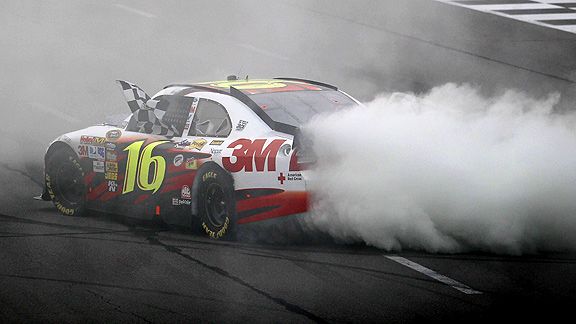 Todd Warshaw/Getty Images
Derby horses definitely do NOT do that.
Hate to break it to you horsies, but another kind of racing is coming to Kentucky. NASCAR's rolling in to steal your thunder (car engines are louder than hooves, it's science) as Kentucky Speedway announced yesterday that it has secured a Sprint Cup date for July 9, 2011.
Kentucky gets to host a race because Atlanta Motor Speedway, which used to host two NASCAR Sprint Cup races, lost one of its races (it will be the first time in 50 years that the track hasn't hosted two Cup events). Kentucky already hosts NASCAR Nationwide and Truck series events, but has yet to host a long-awaited Sprint Cup race.
As the new kid on the schedule, Kentucky should do its best to stand out. And how can it do that? By offering NASCAR fans something that no other track can – a little taste of Kentucky. So listen up, Kentucky Speedway. Here are our recommendations on how to Kentuckify a Sprint Cup race.
1. Inject Some Old Derby Charm
Nothing says Kentucky like the Kentucky Derby. And nothing says the Derby like really descriptive horse names – think past Derby winners like Mine That Bird (2009), Go For Gin (1994) and Behave Yourself (1921). So when NASCAR comes to the Bluegrass State, we suggest changing up the driver intros a bit. He's not Dale Jr., he's "Yet To Live Up To Expectations." Carl Edwards is "Back Flip." Jimmie Johnson? "Can't Beat Me." Hey, it's better than having fans wear Derby hats. Somehow, we don't think that would fly.
2. Double Down
Serving Kentucky Fried Chicken sandwiches in the stands is a no-brainer, of course. But you have to do more than that. While Colonel Sanders, who died in 1980, can't serve as Grand Marshall of the race, a Colonel Sanders impersonator can. And we think we have just the guy.
3. Rock The Anthem
Speaking of celebrity guests, let's take a good look at who will be singing the National Anthem, shall we? In the running, we have Flatwoods, Kentucky's own Billy Ray Cyrus – father of Miley and creator of the "Achy Breaky." But there's also Harlan, Kentucky's own Nick Lachey – ex-wife of Jessica Simpson and creator of one of the top five Feel Bad For Me Ballads of all time. Hmmmm. Better make it a duet.
4. Add A Judd
The University of Kentucky's own Ashley Judd is no stranger to cheering for fast cars. Her hubbie, Dario Franchitti, has had some success in the IndyCar series, after all. If Franchitti were to take another stab at making the switch to NASCAR, we're sure Ashley would be a fixture in the stands. And isn't that all you need to make something a bona fide Kentucky sporting event? We think so.