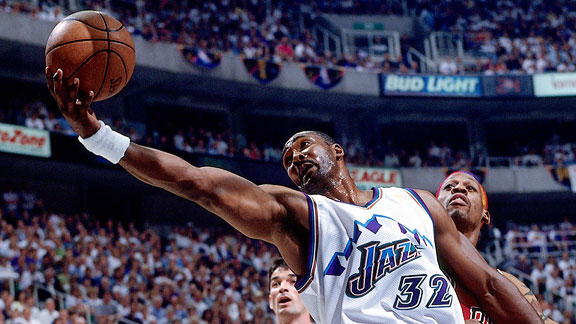 Andy Hayt/NBAE/Getty Images
Have you thanked your mailman lately?
The NBA has released its national television schedule for the 2010-11 season and it's sprinkled with some gems. The new-look Miami Heat will open the season - in Boston no less - for the Big Three Championship Series between the Heat and Celtics. And speaking of LeBron, the NBA isn't easing the pain of Cavaliers fans. Cleveland will only be on national television three times this season, a small number when you consider the Cavs had been averaging 30 nationally televised games for the past few seasons. For the sake of comparison, the Clippers are getting 12. Ouch.
The holiday games are always the big ones, like the big Christmas Day matchup between the Lakers and Heat. But there are several lesser-known holiday matchups that are just as tantalizing. So start programming those DVRs and have a look at our favorite holiday matchups of the 2010-11 season.
October 26 - National Mincemeat Day
Miami at Boston 7:30 ET
What are the odds the first game of the season would fall on this special holiday? The power-packed Heat head to Boston looking to make the aforementioned meat of Kevin Garnett and the newly acquired Shaq.
October 30 - Mischief Night
Denver at Houston 8:30 ET
Carmelo Anthony and the Nuggets take on the Rockets the night before Halloween. No candy, but Mischief Night should be good for a trick or two. How appropriate for a Nuggets team that's famous for its pranks.
November 12 - Chicken Soup for the Soul Day
Portland at Oklahoma City 9:30 ET (ESPN, ESPN3.com)
Seattle fans might need to have a nice, calming bowl of soup as their neighbors to the south take on the Emerald City's old team, the relocated Thunder.
December 15 - National Bill of Rights Day
Boston at New York 7:00 ET (ESPN, ESPN3.com)
What could be more patriotic than National Bill of Rights Day? It's only appropriate that Boston will hold another Tea Party in a former capital of the United States.
Jan 17 - Ditch New Year's Resolution Day
Chicago at Memphis 1:00 ET (ESPN, ESPN3.com)
Sacramento at Atlanta 4:00 ET
Orlando at Boston 8:00 ET
Oklahoma City at L.A. Lakers 10:30 ET
There are four games on. Forget the diet plans, flip on the TV and order in.
February 2 - Groundhog Day
New Orleans at Oklahoma City 8:00 ET
We fear that the first quarter of the Hornets-Thunder game is destined to repeat itself over and over until Kevin Durant learns how to carve the Larry O'Brien Trophy into an ice sculpture.
February 4 - Thank a Mailman Day
Utah at Denver 10:30 ET (ESPN, ESPN3.com)
The Jazz have already raised No. 32 in the rafters, but they might want to make a quick phone call to Karl Malone before tip-off in Denver.
April 1 - April Fool's Day
Boston at Atlanta 8:00 ET (ESPN, ESPN3.com)
Shaq's new Celtics teammates are going to have a tough time outdoing his old Suns teammates.
April 3 - Don't Go to Work Unless It's Fun Day
Dallas at Portland 9:00 ET
What are the odds that Trail Blazers show up?