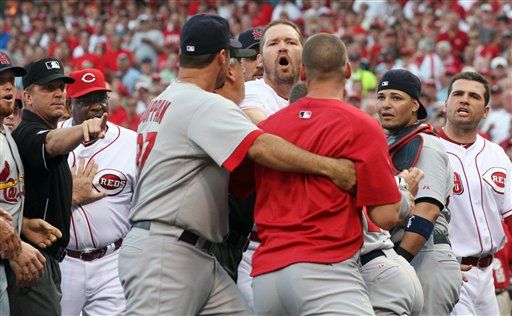 AP Photo/Tom Uhlman
Cards Reclaim Central Lead After Fight With Reds
Yadier Molina jawed with Cincinnati Reds second baseman Brandon Phillips in the first inning Tuesday night, sparking a benches-clearing fight, and the Cardinals followed their catcher's lead to an 8-4 victory that moved St. Louis back into first place in the NL Central. Molina hit a solo homer and a sacrifice fly off Johnny Cueto, who got shoved against the backstop screen and furiously kicked several Cardinals during the altercation. Both managers were ejected, but no players.
Corey Pavin Will Pick Tiger Woods For Ryder Cup
Tiger Woods said he wants to be part of the U.S. Ryder Cup team in Wales and would accept a captain's invitation if asked by U.S. skipper Corey Pavin. So when asked if he would make Tiger a captain's selection, Pavin told reporter Jim Gray, "Of course I'm going to [pick him]. He's the best player in the world." With Woods' recent slump, there has been speculation regarding Woods' value to the team. The top eight qualifiers make the U.S. team, leaving Pavin to add four additional players of his choosing. The top eight will be solidified Sunday evening at the conclusion of the PGA Championship. Pavin's four selections will be announced Sept. 7, the day after the Deutsche Bank Championship.
Mark Teixeira Misses Games For Birth Of Third Child
Mark Teixeira was not in the New York Yankees lineup Tuesday and won't even be in Texas for the two-game set against the AL West-leading Rangers. Manager Joe Girardi says Teixeira is back home in the New York area after his wife gave birth to the couple's third child. The baby boy was born earlier Tuesday. Girardi says Teixeira will rejoin the team for its series in Kansas City that starts Thursday. The Yankees lost to the Rangers 4-3 in 10 innings Tuesday.
Mickelson On Medication Since Arthritis Diagnosis
Phil Mickelson is being treated for a form of arthritis that surfaced just before the U.S. Open and left him in so much pain he couldn't walk. Mickelson revealed Tuesday that he has psoriatic arthritis, a condition he said causes the immune system to attack the body's joints and tendons. Mickelson says he went to the Mayo Clinic in Rochester, Minn., after the British Open, and is on medication that brings the illness under control. There shouldn't be "any" issues long term, Mickelson said, and he is back to his normal practice schedule. While there is no cure for the condition, it is manageable.
Childress Says Harvin Suffering From Migraines
Minnesota Vikings wide receiver Percy Harvin remains absent from the team, coping with migraine headaches. Coach Brad Childress confirmed that Harvin has had "some" migraines recently. Childress said Harvin is resting at his home in the Twin Cities area. The second-year standout from Florida, who made the Pro Bowl as a rookie kickoff returner, left the Vikings nine days ago when his grandmother died and has not been back to camp.
Kentwan Balmer Reportedly Walks Out Of 49ers Camp
Kentwan Balmer, the former first-round draft pick, who has hinted at his frustration about playing time, skipped practice for what coach Mike Singletary called "personal reasons," according to the San Jose Mercury News. "I'm not going into that," Singletary said. "He and I have to talk and figure some things out." Asked whether he expected Balmer to return, Singletary said only: "He'll be back."
NBA May Void Isiah Thomas Deal With Knicks
A league source said the NBA is taking its review of Isiah Thomas' consulting deal with the Knicks very seriously and a decision -- possibly voiding the deal -- could come Wednesday. There is a growing sentiment among NBA executives the league will void the contract. The New York Post reported at least two owners have expressed displeasure over the deal to the league.
Source: Tracy McGrady Agrees With Pistons
A source has told the Associated Press that Tracy McGrady has agreed to terms on a one-year, $1.3 million deal to play for the Detroit Pistons. A 7-time All-Star and two-time league scoring champ, McGrady played in just 30 games last year for Houston and New York.
Olympic track star Usain Bolt is taking the rest of the 2010 season off. His manager says it's because of tightness in his lower back. The announcement comes less than a week after Bolt lost to American rival Tyson Gay in the 100 meters at Stockholm.
The Associated Press contributed to this report.