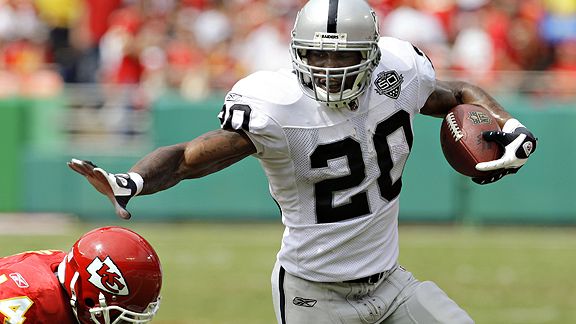 AP Photo/Orlin Wagner
McFADDEN TO MISS PRESEASON OPENER VS COWBOYS:
Oakland Raiders running back Darren McFadden will miss the preseason opener against the Dallas Cowboys with a sore left hamstring. McFadden injured the hamstring in the first practice last Saturday and has sat out practice since. He says he wants to make sure he's completely healthy before returning to the field so the injury doesn't linger all season. McFadden has been plagued by various injuries since being drafted fourth overall in 2008. He has run for 856 yards in 25 career games. McFadden and Michael Bush are expected to share the bulk of the running duties this season so Bush will likely play most of the first quarter with the first-team offense in Dallas. Offseason acquisitions Michael Bennett and Rock Cartwright will get plenty of time after that to show what they can do.
John Clayton: Raiders primed to end losing streak | Camp Confidential: Raiders | Video: Darren McFadden: My Tattoos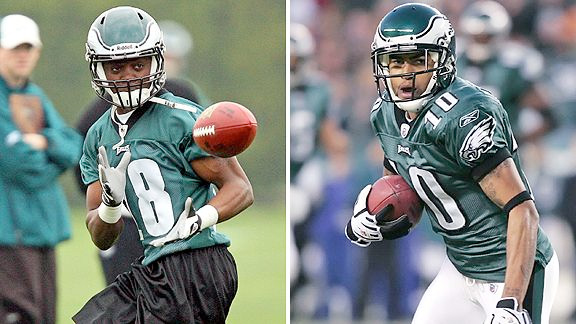 BROTHERLY LOVE
Eagles receivers DeSean Jackson and Jeremy Maclin got into a brief argument in the morning and spent the rest of practice and the walk off the field in an animated conversation. Maclin wouldn't explain what brought about the spat, although it took place after a 7-on-7 drill. The two Eagles wide receivers walked off the field together and as they got closer to a gathering of reporters, Maclin could be heard saying, "We're still cool." They then proceeded to the autograph line where each signed for a number of fans. "It was nothing major," Maclin said. "Like I said, it was over and done with". Jackson hasn't been talking to the media since he arrived at training camp. The Eagles host the Jaguars for their first preseason game of the year Friday August 13 at 7:30PM ET.
NFC East Blog: Jackson and Maclin in a spat? | Video: On The Road To Camp: Eagles | Eagles Clubhouse
"Of course I was disappointed at the time, and because it was the Super Bowl, I still think about it on occasion. But like anything in this business, if you let it linger it's going to have an adverse effect on what you do moving forward."
Former Seattle Seahawks coach Mike Holmgren admits that he still thinks about the outcome of Super Bowl XL. Seattle lost to the Pittsburgh Steelers, 21-10, in a game filled with questionable calls that went against the Holmgren-led Seahawks. More than four years later, referee Bill Leavy put Super Bowl XL back in the spotlight by recently admitting he blew some calls in the game.
Holmgren reacts to SB XL ref's admission | Ref admits mistakes in Super Bowl XL