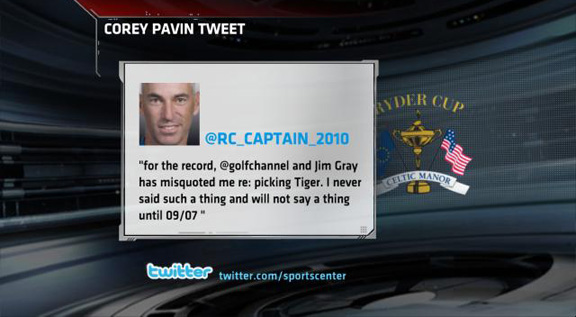 Corey Pavin Says He Was MisQuoted
Golf Channel contributor Jim Gray yesterday reported that U.S. Ryder Cup captain Corey Pavin told him he would pick Tiger Woods to become a member of the squad if he did not qualify. Today, Pavin says he was misquoted tweeting, "I never said such a thing and will not say a thing until 09/07." The top eight qualifiers automatically make the U.S. team, leaving Pavin to add four additional players of his choosing. The top eight will be solidified Sunday evening at the conclusion of the PGA Championship. Pavin's four selections will be announced Sept. 7, the day after the Deutsche Bank Championship.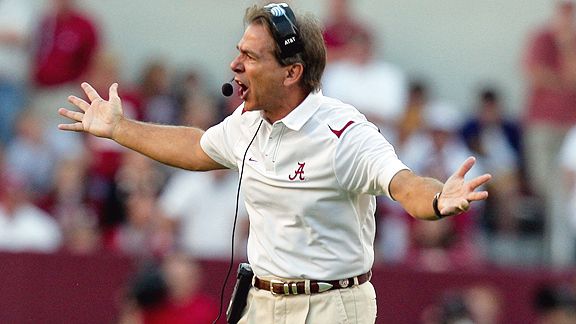 Derick E. Hingle/US Presswire
Reports: Saban Cuts NFL Scouts' Practice Access
The Tuscaloosa News reports that according to a longtime National Football League scout, the University of Alabama's football preseason camp is not currently open to NFL scouts. "Alabama is keeping guys out for the time being, but, as I understand it, that will be lifted at a certain point," said the scout, who asked not to be identified, and who said he had confirmed the lockout with multiple other scouts. At last month's SEC Media Days, Alabama coach Nick Saban was outspoken about the issue of sports agents enticing student-athletes to violate NCAA rules, calling for help from the NFL Players Association in policing unscrupulous agents. Alabama's coach suggested that he would consider restrictions on the NFL's access to his program.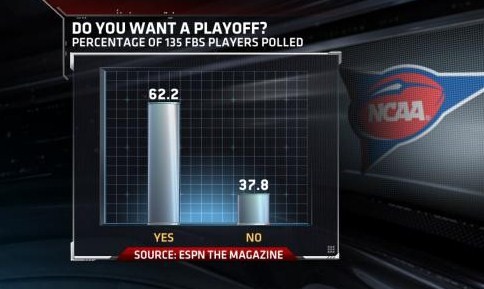 College Football - The Great Playoff Debate
Alabama will open the 2010 college football season as the nation's top-ranked team, the same spot where the Crimson Tide finished last season after their victory in the BCS title game. In the new edition of ESPN The Magazine, we polled 135 players from major programs to find out if they wanted a playoff. And they do, but apparently not if it means losing the current postseason bowl system altogether. When asked simply "do you want a playoff" more than 62 percent of the players polled said yes, they do. Again this is among 135 players from major programs including BCS and non-BCS schools. However, if given a choice between switching full to a 16-team playoff or keep the current bowl system, more than 70 percent of the players would prefer to stick with the how the postseason is played now, which constitutes well over 30 bowl games and culminates with the BCS national title game. Many more poll questions and results can be found in ESPN The Magazine's college football preview issue on news stands today.