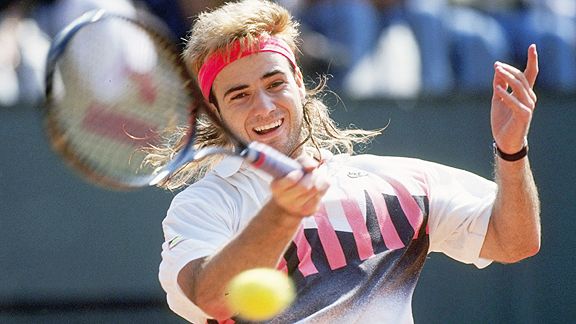 Allsport UK
Fluorescent Tetris blocks on shirts? May not help, but can't hurt either.
We've got some sad news for fans of American men's tennis. For the first time since the Association of Tennis Professionals (ATP) released their first set of computer rankings back in 1973, no American player is in the top 10.
So whose fault is this? Well, Andy Roddick appears to be the easy scapegoat, since his loss in the third round last week at the Legg Mason Tennis Classic in Washington, DC led to his fall in the rankings from No. 9 to No. 11, effectively ending the streak. But really, it's more complicated than that.
The lack of a top 10 player in the ATP rankings is just one dark cloud in the threatening skies of American men's tennis. U.S. men have gone 27 consecutive Grand Slam tournaments without a title. And Roddick was the last American to win a major title way back at the 2003 U.S. Open. So please don't just blame Roddick and move on - we can still do something about it!
Step one, we need to watch this video. Step two, we need to figure out what used to make American men's tennis so great. Really, there was the golden age of John McEnroe and Jimmy Connors (who we'll call "McJimbo") and the platinum age of Pete Sampras, Andre Agassi, Jim Courier, and Michael Chang, so that's gotta be our focus.
Looking at both groups, and thinking about what made them so dominant, a number of traits stand out. Flexing in short shorts? Yep. McEnfro in headband? Definitely. But that's just scratching the hard court surface. This needs to be done right - we need everything from ridiculous hairpieces to future wives in Mortal Kombat movies! C'mon American men's tennis, let's do this!