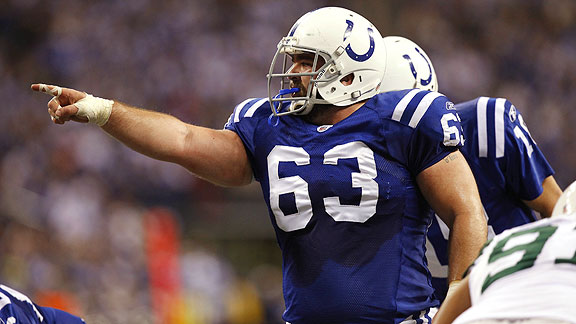 Joe Robbins/Getty Images
Colts Center Saturday Has Knee Surgery
Colts owner Jim Irsay says pro-bowl center Jeff Saturday will need 2-6 weeks to rehab from arthroscopic surgery on one of his knees. A six-week rehab would mean Saturday would not be ready for the Colts' Sept. 12 regular-season opener at Houston. The team said Saturday had "a loose body'' removed from one of his knees on Tuesday.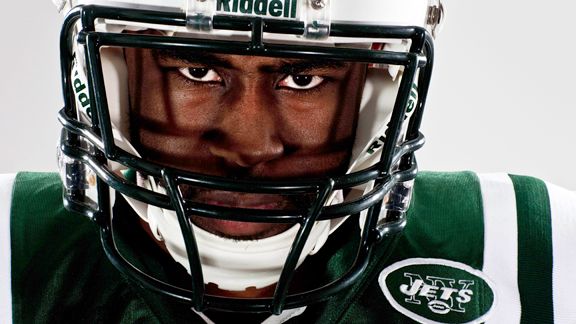 Chris McGrath/Getty Images
Irritated Ryan Invites Revis, Reps to Sit-down
Clearly annoyed that Darrelle Revis' representatives called his boss a "blatant liar," New York Jets coach Rex Ryan made an unusual proposal today, inviting Revis and his agents to training camp to meet with the Jets' hierarchy and the entire team -- players included. Ryan said it was a "blatant joke" that agents Neil Schwartz and Jon Feinsod called out owner Woody Johnson and general manager Mike Tannenbaum, accusing the Jets' brass of lying about whether Johnson was invited to attend a negotiating session last Friday.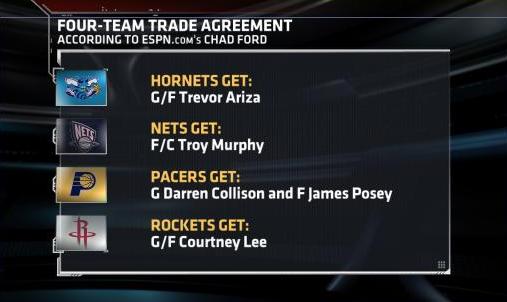 Sources: Ariza to Hornets in Four-Team Trade
ESPN.com's Chad Ford reports four NBA teams have agreed to a five-player trade that will send Trevor Ariza from the Rockets to the Hornets. The Hornets will send Darren Collison and James Posey to the Indiana Pacers. The Pacers will send Troy Murphy to the New Jersey Nets. And the Nets will send Courtney Lee to the Rockets. The deal will fulfill some long-term needs for the Hornets, Pacers and Nets, as well as provide needed salary relief for the Rockets.