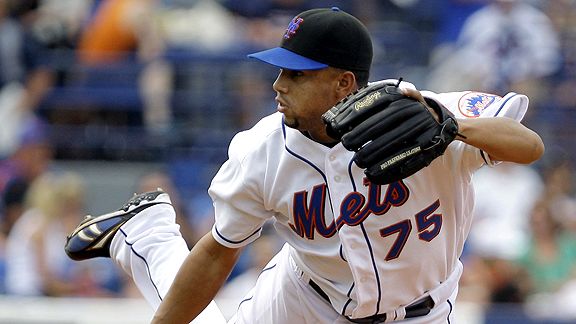 AP Photo/Richard Drew
Francisco Rodriguez Arrested Following Altercation after Mets Game
Mets closer Francisco Rodriguez is in police custody after allegedly assaulting his father-in-law. This according to ESPN's Jeremy Schaap. Police said the father-in-law, who wasn't identified, was taken to an area hospital with a minor injury, according to the Wall Street Journal. Police said Mr. Rodriguez will be charged with assault in the third degree, a misdemeanor, and taken to central booking.
Yankees Win Late, Defeat the Rangers 7-6
Yankees great Yogi Berra said it best, "It ain't over 'til it's over". Wednesday night the Yankees proved Berra right by overcoming a 6-1 deficit through five, to edge Texas 7-6 and earn a split in their two-game series.
Corey Pavin: No Automatic Invites
It's safe to say Golf Channel contributor Jim Gray and U.S. Ryder Cup captain Corey Pavin aren't best friends. Gray said Pavin told him he would pick Tiger Woods to become a member of the Ryder Cup team if he did not qualify for it. Pavin said he was misquoted, tweeting "I never said such a thing and will not say a thing until 09/07." The disagreement led to a heated exchange later when Gray allegedly said to Pavin, "You're going down".
Irritated Ryan Invites Revis, Reps to Sit-down
Rex Ryan has a plan to resolve the Darrelle Revis holdout situation. The Jets head coach has invited his All-Pro cornerback and his agents to training camp to hammer out a deal. Ryan even said he'd cancel practice and have the entire team at the meeting.
Isiah Thomas will not accept the consultant job with the New York Knicks, citing violation of certain NBA bylaws. Thomas said in a statement, "Because of this, I have decided to rescind my contract with the team. I have nothing but the utmost respect for [owner] Jim Dolan, [general manager] Donnie Walsh, [coach] Mike D'Antoni and the entire Knicks organization, and I want to thank them for affording me this opportunity."
Al Davis Predicts Great Things for Jason Campbell
Al Davis says he has high hopes for the Silver and Black this season. Tuesday night on Gil Brandt's Sirius NFL Radio show, Davis compared his team's new QB Jason Campbell to former Raiders great Jim Plunkett. Davis also drew similarities of this year's squad to the 1980 Super Bowl Champion Raiders. "We don't have as many Hall of Fame players as we had on that '80 team "... but this team has a lot of potential and a lot of great young players," Davis said.
Texans DE Mario Williams (Hip) Cleared to Play in Preseason Opener
Good news for Texans fans. Defensive tackle Mario Williams continues to make good progress and is expected to play about 10 snaps in Saturday's preseason opener against the Cardinals. This according to Nick Scurfield of HoustonTexans.com. Houston opens the pre-season Saturday, August 14 at Arizona (8 PM ET).
Reports: Saban Cuts NFL Scouts' Practice Access
NFL scouts can stay out (for now) of Alabama football practice sessions. The Tuscaloosa News reports that according to a longtime National Football League scout, the Crimson Tide's preseason camp is not currently open to NFL scouts.
College Football - The Great Playoff Debate
College football players want a playoff system, but with an exception. In ESPN The Magazine's latest edition, 135 players from major programs were asked if they wanted a playoff. And they do, but apparently not if it means losing the current postseason bowl system altogether.
Colts Center Saturday Has Knee Surgery
The AFC champion Colts need to audible. Team owner Jim Irsay says pro-bowl center Jeff Saturday will need 2-6 weeks to rehab from arthroscopic surgery on one of his knees. The team said Saturday had "a loose body'' removed from one of his knees on Tuesday.