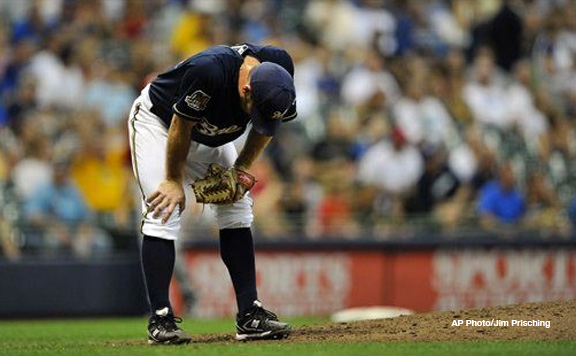 Milwaukee Brewers' Dave Bush hangs his head after giving up four consecutive home runs to the Arizona Diamondbacks
DIAMONDBACKS HIT MAJOR LEAGUE RECORD-TYING 4 STRAIGHT HOMERS IN WIN:
Adam LaRoche, Miguel Montero, Mark Reynolds and Stephen Drew hit consecutive home runs in the fourth inning off of Milwaukee's Dave Bush to lead Arizona to an 8-2 victory over the Brewers on Wednesday night. Bush became just the third pitcher to allow four consecutive home runs in one inning, joining the Angels' Paul Foytak (July 31, 1963) and the Yankees' Chase Wright (April 22, 2007) on that list.
Recap: D-backs hit 4 straight HRs in win vs. Brewers | Highlight | Box Score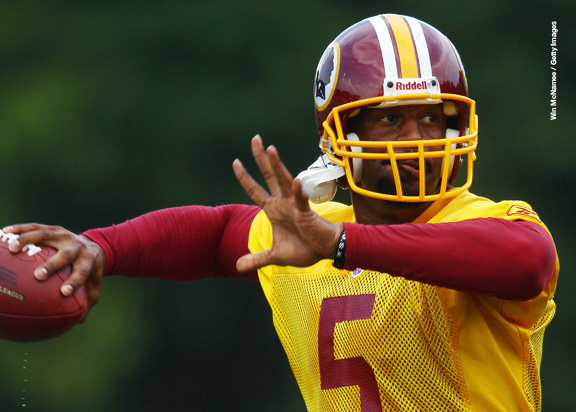 IT'S ALWAYS SUNNY IN PHILADELPHIA:
Jim Devlin said he was just trying to stir the pot by wearing a replica of Donovan McNabb's maroon Washington Redskins jersey on the sideline at Philadelphia Eagles training camp Wednesday morning. Instead, he believes he stirred up head coach Andy Reid. Security guards asked Devlin, a 43-year-old from King of Prussia, Pa., to remove the jersey. He told Philadelphia radio station 97.5 The Fanatic he did so without complaint, adding the guard who asked him to remove the jersey said the request came from Reid. A team spokesman denied that, saying that Reid was not aware of Devlin's presence and that the guards were acting to calm the commotion created when reporters crowded around the fan while practice was in session.
Eagles security nabs fan in new McNabb jersey | Eagles more consistent with Kolb | Fan told to remove his McNabb jersey
Getty Images
"I would not disrespect any of the players that are potential players on the team, and obviously there was misinterpretation of what I said."
In a news conference, Ryder Cup Corey Pavin disputed that he told Golf Channel contributor Jim Gray that he will add Tiger to the team if Woods doesn't qualify. Then, according to Tom Rinaldi, Gray and Pavin got into a heated exchange. Minutes after Pavin's news conference, Gray walked into the interview room for a heated exchange with Pavin, and pointed a finger at his chest. According to Pavin - his wife taped the argument on her cell phone - Gray called him a liar and said, "You're going down."
Corey Pavin: No automatic invites | Ryder Cup fireworks fail to ignite | PGA championship First, second round tee times