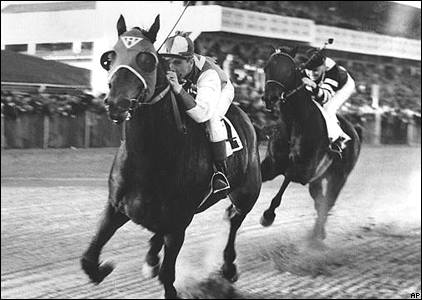 Seabiscut says, "Thanks for the swell racing genes, grandpa!"
August 12, 1919: Man o' War, one of horse racing's greatest thoroughbreds, was on a six race winning streak when he lined up at the Sanford Stakes at Saratoga today. He failed to make it seven in a row though, as he was upset by a horse named - if you can believe it - Upset. Of the 21 times Man o' War went to post, this would be the only race he ever lost.
Man o' War, also known as "Big Red," may have had a good excuse for the only blemish on his record. At the time of the race, starting gates were not used. Horses were held behind a tape barrier. When the Sanford Stakes started, Man o' War was apparently backing up and was "almost left at the post," said the Louisville Courier-Journal. The horse - and his jockey - never recovered and Man o' War finished a half-length behind the winner.
Man o' War would beat Upset the six other times they met. He finished the year with nine victories in 10 races and would go on to win all 11 of his races in 1920. At 4-years-old, Man o' War retired to stud. And he proved to be quite prolific in that arena as well. He sired 1937 Triple Crown winner War Admiral. All, 64 of his foals were stakes winners. He was also the grandfather of Seabiscuit, Horse of the Year in 1938 and the inspiration for the book and the movie "Seabiscuit."