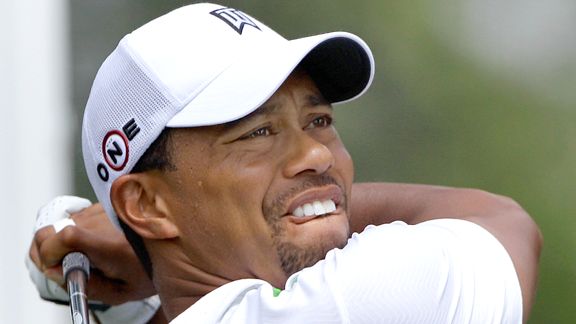 AP Photo/Amy Sancetta
Tiger Shoots 1-under in 1st Round
Tiger Woods is in the hunt after Round 1 of the PGA Championship. Fog delayed play at Whistling Straits for more than three hours Thursday. The world's No. 1 finished the day at 1-under par, three strokes back of the five-way tie for the lead.
Twins Defeat White Sox to Lead AL Central
There's a new division leader in the AL Central. Orlando Hudson and Jason Kubel each homered for the Twins during the 6-1 victory over the White Sox. Francisco Liriano earned his 11th victory Thursday, allowing one run on seven hits with four strikeouts.
Brett Favre may be one step closer to making a decision. Favre visited Dr. James Andrews in Florida Thursday, according to NFL sources. The 40-year-old QB said last week that he planned to meet with Andrews before making a decision to return to the Vikings or retire.
Saints Offense Starts Slow in Loss to Patriots
The New Orleans Saints marched into Foxborough, MA and lost. The New England Patriots defeated the defending Super Bowl Champions in Thursday's preseason opener for both teams. Drew Brees completed 9 of 13 passes for 55 yards, and Reggie Bush rushed five times for 17 yards and a TD in defeat. Tom Brady completed 5 of 8 throws for 67 yards and Laurence Maroney scored twice in New England's 27-24 win.
Five Players, Two Managers Punished
Major League Baseball came down on the Reds and Cardinals Thursday. Cincinnati pitcher Johnny Cueto was suspended seven games for his actions during Tuesday's brawl with St. Louis, and both managers were suspended for two games. MLB said Thursday that Cueto, Cardinals manager Tony La Russa and Reds manager Dusty Baker were also fined undisclosed amounts. Four other players were fined but not suspended.
Suspended Mets closer Francisco Rodriguez is free but is ordered to stay away from his girlfriend Daian Pena and her father, whom he is accused of attacking outside a family lounge at Citi Field. Rodriguez was arrested and charged with third-degree assault after a loss to the Rockies Wednesday night. The Mets put him on the restricted list without pay for two days, costing him more than $125,000. He is due back in court September 14.
Braves 3B Chipper Jones Has Torn ACL
The Atlanta Braves said Thursday that Chipper Jones tore his ACL Tuesday night against Houston and will need season-ending surgery. The estimated recovery time is six months. Jones would be ready for next season's Opening Day, if he decides to return in 2011.
LeBron James, Dwyane Wade at Talks
Facing a potential lockout in 2011, LeBron James, Carmelo Anthony, Dwyane Wade and Chris Paul were among other players who attended a negotiating session between the NBA and the union Thursday. The current collective bargaining agreement expires June 30, 2011.
"Lights Out" is no longer holding out of San Diego Chargers camp. Shawne Merriman will report to camp this weekend, according to ESPN NFL Insider Adam Schefter. Merriman is expected to sign a $3.25 million dollar tender. Vincent Jackson and Marcus McNeill are the other remaining holdouts from Chargers camp.
USC Suspends Freshman RB Dillon Baxter for Season Opener
Dillon Baxter is serving as Lane Kiffin's example. The USC freshman RB has been suspended for the team's season opener against Hawaii on Sept. 2 for violating team rules. Coach Lane Kiffin made the announcement Wednesday. "I think this is an extremely strong message and a very severe punishment for a player that may potentially be the most-skilled player on our whole roster," Kiffin said.
The Associated Press contributed to this report.