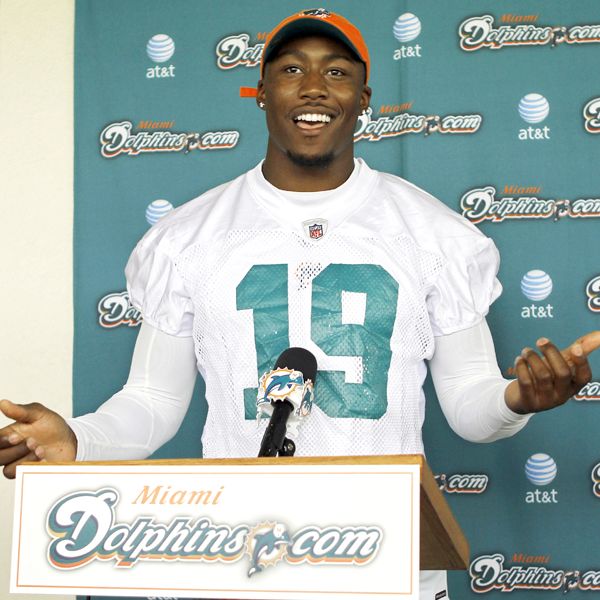 AP Photo/J Pat Carter
The Decision Part II: Starring Brandon Marshall.
If there is in fact an NFL lockout in 2011, Brandon Marshall could be taking his talents down the block. The 6'4'' Dolphins wideout (or should we say future shooting guard?) announced Thursday he plans to play in the NBA if the NFL goes MIA next season. "My first team will be the Nuggets and my second team will be the Heat -- I'm serious," Marshall said referring to his likely destinations.
The Heat could use some help off the bench come playoff time, but Marshall would have to take a significant pay-cut for the Heat to consider him -- there's no way Pat Riley and Co. could pick up the four-year, $47.5 million contract extension he recently signed. Oh, and then there's the whole part about him not being a basketball player.
With that being said, at least Marshall is planning for the future. If the NFL teams lock out the players in 2011, there's going to be a lot of gridironers looking for part-time work and only so many jobs to go around. Although, some NFLers will always be able to find work:
- Brett Favre (High School Gym Teacher) - He spends so much of the offseason there already, he may as well get paid for it.
- Tracy Porter (Barber) - The dude had Blinky, Pinky, Inky and Clyde shaved into his head. Need we say more?
- LaDainian Tomlinson (Wedding Entertainer) - Exhibit A.
- Ray Lewis (Voiceover for Books On Tape) - Is there a more engaging speaker in the NFL?