St. Louis Rams QB Sam Bradford will get his share of snaps during his NFL debut tonight against the Favre-less Minnesota Vikings. Steelers QB Ben Roethlisberger and the Pittsburgh Steelers host the Detroit Lions with rookies Ndamukong Suh and Jahvid Best also making their debuts. Roethlisberger is likely to start tonight. This according to ESPN Senior NFL Insider Chris Mortensen, who joined Cindy Brunson on SportsCenter to preview some of tonight's seven preseason games.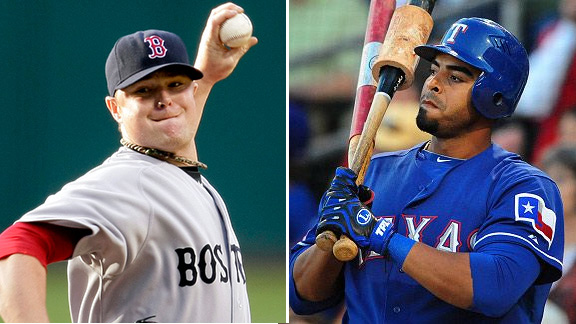 AP Photos/Mark J. Rebilas/US Presswire
Boston Red Sox (66-51) at Texas Rangers (66-48)
8:05 PM ET -- Rangers Ballpark in Arlington, Arlington, Texas
Starting Pitchers
Boston: Jon Lester (12-7, 2.94 ERA)
Texas: Colby Lewis (9-8, 3.37 ERA)
Losing hurts. It hurts worse when it happens late in the game. Just ask the Red Sox, who turn to Jon Lester to bounce back from Friday's meltdown loss to the Rangers. Including last night's come-from-behind victory, Texas has won 12 of 17 against Boston. Josh Hamilton, who leads the majors with a .362 average, and Nelson Cruz, are big reasons why. Cruz has gone 21 for 40 (.525) with 11 RBIs in his last 10 games against the Red Sox. Boston trails the Rays by 4 games in the race for the AL wild-card.
Game Preview: BOS vs TEX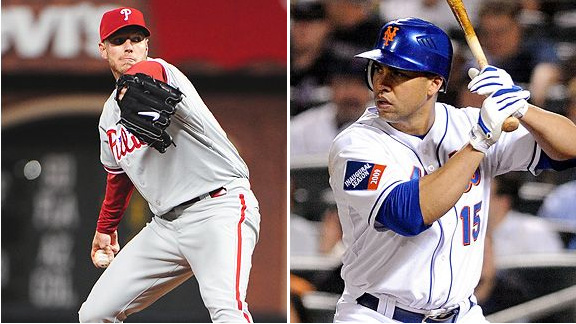 Getty Images, US Presswire/Icon SMI
Philadelphia Phillies (64-51) at New York Mets (58-57)
7:10 PM ET -- Citi Field, New York, NY
Starting Pitchers
Philadelphia: Roy Halladay (14-8, 2.34 ERA)
New York: Pat Misch (0-0, 0.00 ERA)
Roy Halladay has gone at least 6 innings in each of his last 50 road starts, the longest streak by any major-league pitcher since Walter Johnson went six or more in 82 successive starts from 1911 to 1915. The right-hander will want to be careful pitching to Carlos Beltran and Jose Reyes as he makes his Citi Field debut. Beltran is a .355 hitter against Halladay, while Reyes is 6 for 11 with three extra-base hits. The Mets give the ball to Pat Misch, who will make his first appearance in the majors this season. The Phillies have yet to score a run in 4 games at Citi Field this season.
Game Preview: PHI vs NYM
Note: The Elias Sports Bureau and ESPN Stats and Information group contributed to this report.