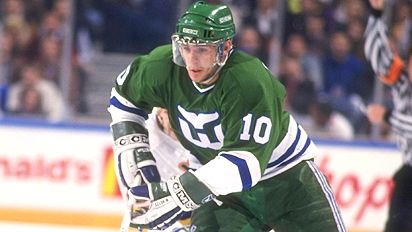 Getty Images
Who knows how many free pizzas Ron Francis would have claimed if the Whalers were still in Hartford?
Thar she blows, the great small-market faithful! On Saturday former owner of the Hartford Whalers Howard Baldwin and his friends threw a Fan Fest celebrating Connecticut's dearly departed but hardly forgotten NHL franchise. Franchise greats such as Kevin Dineen and Gordie Howe attended, making this quite the team reunion. Ron Francis had to leave early for a family commitment, but pre-signed about 300 posters before catching his flight. Still classy, that guy.
As for the fans, the true die-hards began lining up three hours before the event started at Rentschler Field. Organizers would've been pleased with 2,000 attendees. Their final estimates were around 4,700. 60 members of the booster club were on hand to recruit new members. Not bad for a team that hasn't been around since 1997. When asked if he was surprised about the hard-core representation, Gordie Howe simply said "H***, no. It's hockey, isn't it?" Still straight-shooting, that guy.
Dave Babych, who left the team in 1991 via the expansion draft, also played for the Winnipeg Jets, calls Hartford a "quiet place" where the locals "knew hockey, but gave you your space." He echoed Howe's lack of surprise about the turnout. "There's that core of fans that supports the franchise," Babych said, "and they're still here. And they're still in Winnipeg." Throughout the land, Nordiques and North Stars lovers nodded their heads in slow, pained unison.
If you're wondering whether there's an ulterior motive to all this goodwill, you're not entirely out of line, and no, it's not only due to the new Pucky the Whale mascot. Howe and his friends are considering bringing a franchise back to the area. However, other fans such as Sean Dougherty aren't setting themselves up for another round of heartbreak. "We have to be realistic," he said. "It's sad to think about, but San Jose got a team back because they [had a rich owner], Denver got a team back because they were rich, Atlanta got a team back because their population grew 500 percent since the [the Flames] left. None of those factors are here." Don't start investing in that East Hartford real estate just yet, Ron Francis.
True believers may have to settle for a digital team for now. EA Sports announced that you can select Hartford in the upcoming NHL 11. Well, sort of. You can choose to have the Carolina Hurricanes don the ol' green and whites as an alternate "throwback" jersey. It doesn't take the sting completely out of being today's Whalers fan, but it's a start.