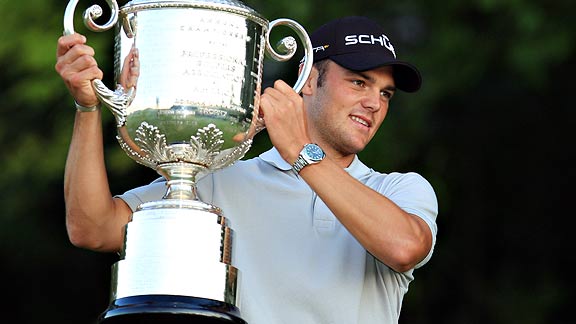 Allan Henry/US Presswire
Martin Kaymer Wins PGA in Playoff
And the Wannamaker Trophy goes to, Martin Kaymer. The 25-year-old German won the 92nd PGA Championship, defeating American Bubba Watson in a three-hole playoff Sunday. American Dustin Johnson was in contention before receiving a two-stroke penalty for grounding his club in a bunker on hole 72. Tiger Woods finished tied for 28th (-2).
Tebow Debuts in Broncos' Loss to Bengals
Tim Tebow made his NFL debut in a 33-24 loss to the Bengals. Tebow was 8 of 13 for 105 yards and ran twice for 10 yards, including a 7 yard TD on the game's last play. Carson Palmer was 12 of 15 for 105 yards for the Bengals. Terrell Owens caught four balls and Chad Ochocinco had one catch in the win.
Slowey Pulled After 7 No-Hit Innings in Twins' Win
Better safe than sorry. Twins pitcher Kevin Slowey threw seven no-hit innings against the A's but was pulled for precautionary reasons. Slowey threw 106 pitches and was on a limit after missing his last start with a sore right elbow. Minnesota topped the A's, 4-2.
Crash in California Off-Road Race Kills 8 in Crowd
A tragic off-road race accident claimed 8 lives northeast of Los Angeles Saturday night. Shortly after the start of the off-road California 200 race, a truck sailed off a jump and plowed into a crowd of spectators. According to authorities, 8 people were killed, another 12 were injured, several of those seriously. The California Highway patrol is leading the investigation into the accident.
Stafon Johnson Has Surgery on Ankle
Stafon Johnson's dislocated right ankle was repaired Sunday. Johnson suffered the injury during the Titans' 20-18 loss to the Seattle Seahawks Saturday. Titans head coach Jeff Fisher said it's too early to tell if Johnson will be placed on the IR.
Torry Holt (Knee) Placed on IR
Torry Holt is done for the season. The 34-year-old WR was placed on injured reserve by the New England Patriots (knee) and will undergo surgery this week, according to his agent Kennard McGuire. The surgery could mean the end of Holt's stellar career (11 seasons).
Udonis Haslem Arrested in Florida
Miami Heat forward Udonis Haslem was arrested Sunday for possession of marijuana after a traffic stop in Miami-Dade County. Haslem, 30, was stopped for speeding and was also charged with illegal window tint.
Harvick Hangs on for Cup Victory in Michigan
Kevin Harvick took a risk Sunday, and won. Harvick's No. 29 team gambled by staying on the track instead of making a pit stop during a late caution. The move paid off as Harvick's team won the NASCAR Sprint Cup series race at Michigan International Speedway. It was Harvick's third win of the season.
Rangers Put Harden on DL Because of Right Shoulder
Texas Rangers starter Rich Harden is back on the disabled list. Harden is suffering from tendinitis in his right shoulder. Harden has made only two starts since coming back from missing 42 games with a left gluteal muscle strain.
OTL Study: Umps Miss One in Five Close Calls
Fair or foul? Safe or out? ESPN's "Outside the Lines" conducted a two-week study to get a sense of how often umpires made the right call on close plays -- and how often they were wrong. "Outside the Lines" analysis found that an average of 1.3 calls per game were close enough to require replay review to determine whether an umpire had made the right call. Of the close plays, 13.9 percent remained too close to call, with 65.7 percent confirmed as correct and 20.4 percent confirmed as incorrect.
The Associated Press contributed to this report.