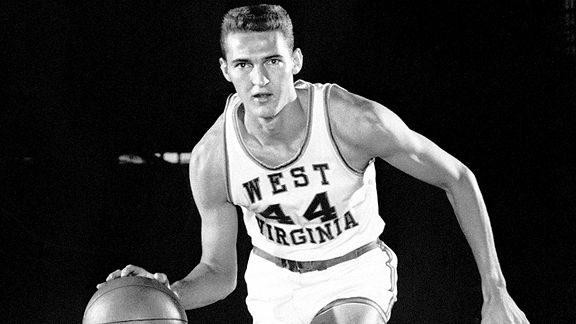 AP Photo
Jerry West practiced representing the mother country by representing West Virginia.
This past week, the Naismith Memorial Basketball Hall of Fame inducted the 1960 and 1992 USA national teams. There's been quite a bit of debate over which team was better, as well as some good-natured ribbing. But to us, the answer seems pretty clear.
The 1960 team, made of then-amateur players, was stronger than the 1992 team, made of then-pros, because of its handicaps. Sure, the '92 team had to deal with the Lakers/Celtics strife of Magic/Bird (actually they were, and are, close friends). But the '92 team never had to put up with the trials and tribulations of life in the 1960s like the '60 team did. What were those trials and tribulations? Glad you asked.
Short-shorts: Co-captains Jerry West and Oscar Robertson had to represent their country in the confined non-comfort of short-shorts. True, Magic and Bird played in them for most of their careers, but by 1992 fashion had changed (largely thanks to Michael Jordan's use of baggy shorts). When the '92 Dream Team took the court, baggy shorts were the norm. John Stockton was the lone hold out.
Venue: In 1960s America, professional teams played in barns like the Boston Garden, Chicago Stadium and the old Madison Square Garden. They were hot, cramped and lacked the state-of-the art facilities modern venues had by the 90s. Amateur players like those on the 1960 team were even less fortunate, playing in smaller college venues like Cameron Indoor Stadium. Play had to stop every time the ball found its way into the peach basket (OK, not really). But even those arenas were palaces compared to the facilities in Rome.
$1/Day Salary: The 1960 players famously received only a dollar per day in exchange for the thrill of winning gold at the 1960 Olympics in Rome. But while this appears to be a handicap on the surface, $1 had a surprising amount of purchasing power 50 years ago. A buck was enough for Jerry West to buy the late edition of the International Herald Tribune, have a nice pasta dinner in front of the Rotunda, send a few postcards home, then put a down payment on a house on Sunset Blvd. in anticipation for the 1960 NBA Draft and the Lakers' move to Cali.