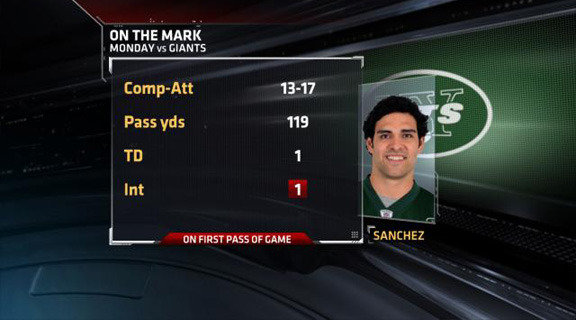 AIR SANCHEZ: Mark Sanchez with a solid first preseason game. Completing 13 of 17 passes for 119 yards and a touchdown. The one blemish was on his first pass of the game when a deflection led to an interception.
Game Recap | Box Score | SC Highlight Of The Night | Drive Chart
After the jump, find out why the Giants were on Cruz control last night against the J-E-T-S and what it means to be the first NL team to win 70 games.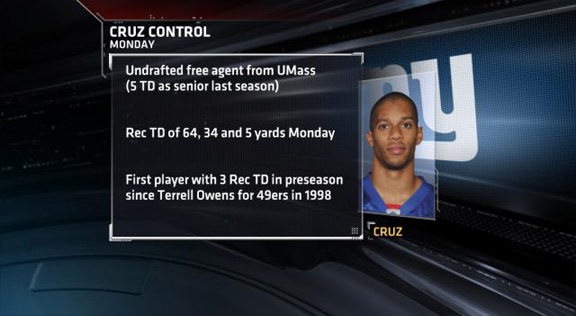 FANTASY SLEEPER: Victor Cruz made a name for himself Monday. The undrafted free agent who caught 5 touchdowns in his senior season, caught 3 touchdowns Monday to become the first player to accomplish the feat since Terrell Owens for the 49ers in 1998.
Game notes from Giants 31, Jets 16 | Jacobs jubilant over victory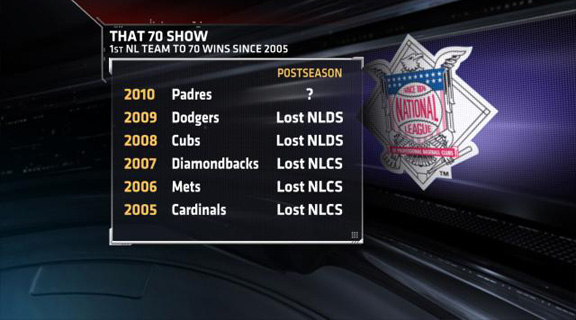 CHAMPIONSHIP PUSH: The Padres become the 1st team in the NL to reach 70 wins. Its a nice accomplishment, but a bad omen. The last 5 teams who were 1st in the NL to reach 70 have failed to get to the World Series. The last to do it was the '04 Cardinals, while the last to WIN the fall classic was the '01 D-backs. This is the first time the Padres have been the 1st NL team to 70 wins.
Game Recap | Box Score | MLB Standings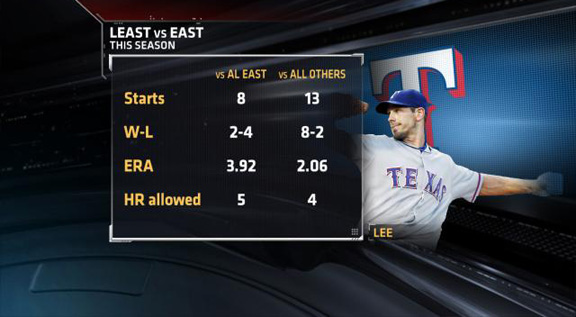 NOT SO MIGHTY: Cliff Lee against the AL EAST might be something for Rangers fans to worry about. Cliff Lee has struggled against AL East teams this season and will likely have 2 AL East teams in the postseason. Lee has just a 2-4 record against AL East teams this season to go with an ERA nearly twice as high as against all other opponents.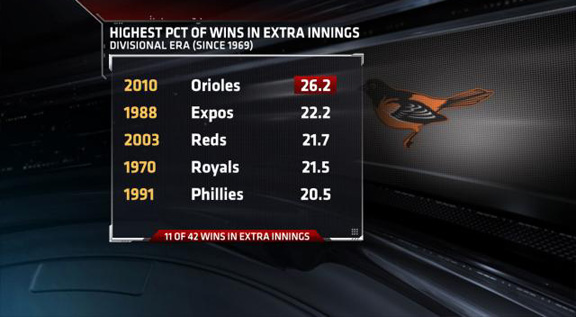 EXTRA KICK: With their extra-inning win over the Mariners Monday, 11 of the Orioles' 42 wins this season (or 26 percent) have come in extra innings. That's the highest percentage in the divisional era. Also -- 10 of their 25 home wins have come via the walk-off! That's tied with the Padres for most walk-off wins this season - who says the Orioles aren't exciting.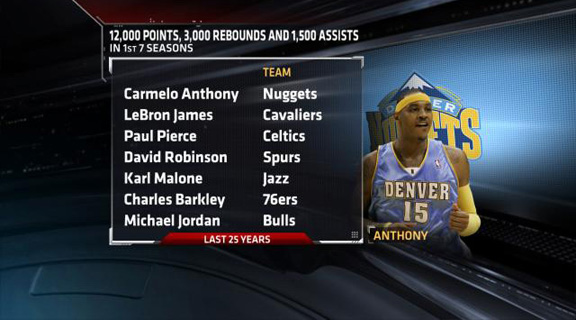 OUTWARD BOUND?: A look at some of the company Carmelo Anthony keeps, and it is understandable why he'd be such a commodity. Since 1985, he's one of 7 guys to amass 12,000 points, 3,000 rebounds and 1,500 assists in his 1st 7 seasons in the league. The list includes 4 Hall of Famers and 5 MVPs.