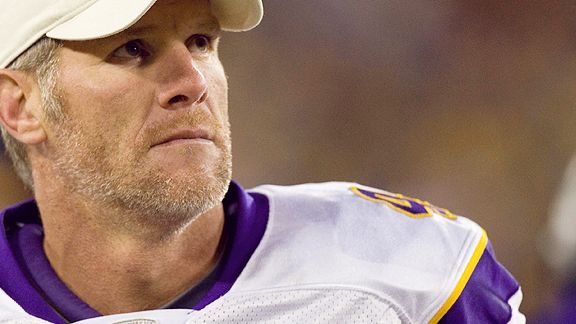 Jeff Hanisch/US Presswire
Brett Favre Arrives In Minnesota
Brett Favre is back in Minnesota, stirring hope among Vikings fans that he may be ready to play this season. A private jet carrying the 40-year-old quarterback landed at an airport outside Minneapolis Tuesday afternoon. Favre was then whisked to Viking headquarters, and disappeared into the building. There's still no official word from the team. Vikings kicker Ryan Longwell sent a text message to our Rachel Nichols mentioning the trip he made on Monday to visit Favre in Mississippi. The text said: "We simply went down there to get an answer and after talking for a while, his answer was "yes". He loves the guys in the locker room and is doing it for all of us."
Mets Put K-Rod On Disqualified List After Surgery
The New York Mets placed Francisco Rodriguez on the disqualified list and do not intend to pay him until he is physically able to perform, chief operating officer Jeff Wilpon announced Tuesday. Rodriguez underwent surgery Tuesday at the Hospital for Special Surgery in Manhattan to repair a torn ligament in his right thumb. Wilpon said Rodriguez acknowledged to the team's trainers that he injured the thumb in the altercation with his girlfriend's father last Wednesday at Citi Field.
Famed Home Run Hitter Bobby Thomson Dead At 86
Bobby Thomson died Monday night at his home in Savannah, Ga. He had been in failing health for several years. Thomson hit one of the most storied home runs in baseball history. His "Shot Heard 'Round the World" won the 1951 National League pennant for the New York Giants and beat the Brooklyn Dodgers.
After the break -- Eli Manning update, Will the Giants see Roethlisberger Saturday?, Maualuga decision, and LeBron talking.
Manning Checks Out OK, Status Still Uncertain
New York Giants quarterback Eli Manning spent Tuesday in Manhattan undergoing a battery of tests which revealed nothing more serious than the three-inch gash that required 12 stitches on his forehead. "It feels really good," Manning said on The Michael Kay Show on ESPN 1050 AM. "I was a little worried last night but no headache, no concussion of any sort. My body, my mind, my head all feels really good."
Bengals Maualuga Won't Be Suspended
According to ESPN NFL Insider Adam Schefter, after listening to the arguments of his attorney David Cornwell, the NFL decided not to suspend Bengals linebacker Rey Maualuga despite the fact he was charged with a DUI in January, according to a league source. The league was considering a one-game suspension for Maualuga, but now it will not happen. But, the NFL will fine Maualuga two games worth of pay.
Big Ben To See Action Against Giants
Ben Roethlisberger will see his first preseason action this weekend, when the Steelers visit the Giants Saturday night. Offensive coordinator Bruce Arians confirmed the plan Monday regarding Roethlisberger, who'd led the first team in practice. Roethlisberger is under an NFL suspension for at least the first 4 games of this season.
Former USC Assistant Appealing NCAA Ruling
Former USC assistant Todd McNair, a key figure in the NCAA investigation, is appealing the NCAA ruling against him. McNair's appeal accuses the NCAA Committee on Infractions, of misconduct and claims it mischaracterized facts in the case. The NCAA ruled McNair had knowledge or should have had knowledge of violations involving Reggie Bush and did not report them. McNair claims in his appeal that the NCAA denied him fair process and used false statements to support its findings. USC has filed a separate appeal of the NCAA's findings that it lacked institutional control.
LeBron: Dan Gilbert Motivating Me
LeBron James won't rule out returning to play for Cleveland someday, but admitted in an interview with GQ magazine that owner Dan Gilbert's letter to fans on the night James left the Cavaliers gives him "a lot of motivation" for when he and his new Miami Heat teammates play his former club.
French Hand Down Discipline For World Cup Protests
The French Football Federation suspended Nicolas Anelka for 18 matches for his role in the France team's World Cup fiasco, and handed a five-match ban to former captain Patrice Evra on Tuesday. The FFF's disciplinary commission also gave a three-match ban to Franck Ribery and a one-match suspension to Jeremy Toulalan. Eric Abidal, the fifth player summoned to the four-hour hearing, escaped any sanctions. All 23 players on France's World Cup squad boycotted a training session in South Africa to protest Anelka's expulsion after he insulted then-coach Raymond Domenech during a 2-0 loss to Mexico.
The Associated Press contributed to this report.