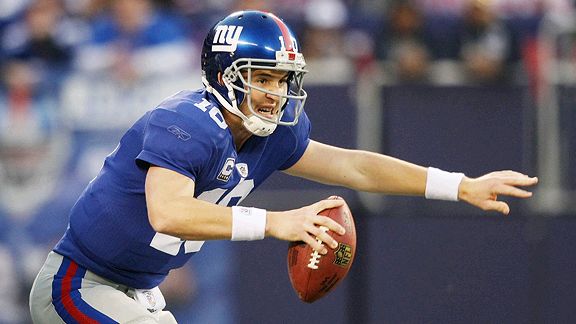 Nick Laham/Getty Images
Manning Back On The Field With Giants
Eli Manning is back on the field. The New York Giants quarterback joined teammates for stretching today at training camp. Manning, who needed 12 stitches to close a gash on the left side of his forehead on Monday night in a preseason game against the Jets, wore a baseball cap. The 29-year-old also lobbed a couple of passes before stretching with teammates. It is not clear whether Manning will play in the Giants' game against Pittsburgh at the New Meadowlands Stadium on Saturday night.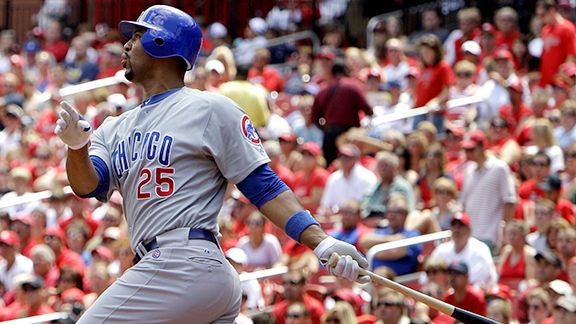 AP Photo/Jeff Roberson
Source: Cubs Working On Trading Lee to Braves
The Chicago Cubs are working on a deal to send Derrek Lee to the Atlanta Braves for prospects, according to a league source. Lee, who is presently dealing with a bulging disc on his lower left side, received an epidural on Monday to relieve the pain and will not be ready to play again until Thursday. Atlanta lost All-Star third baseman Chipper Jones for the season with a knee injury on Aug. 10. Because Lee has been in the majors 10 years, including five with the same team, Lee can refuse any trade. He recently rejected a deal to the Los Angeles Angels. According to sources close to Lee, he's more amenable to moving to the Braves.
Jed Jacobsohn/Getty Images
Rangers' Young Movement Still Limited
Texas Rangers third baseman Michael Young was out of the starting lineup for the second straight game Tuesday due to a stiff neck. Young left Monday night's game against Tampa Bay after six innings and didn't play at all on Tuesday. He first felt the neck discomfort when he woke up Monday. Today, Young said he was feeling better, but his movement is still limited. He's undergoing daily treatment for the injury.
The Associated Press contributed to this report.