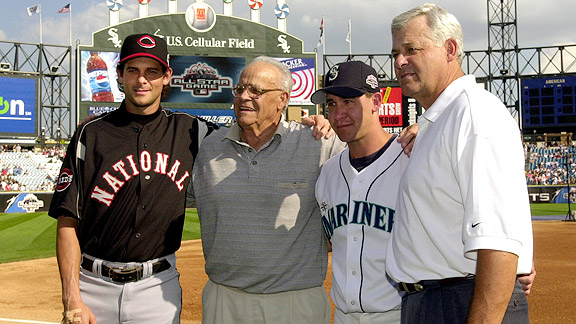 AP Photo/Mark Duncan
Must be in the genes: Aaron, Ray, Bret and Bob Boone.
August 19, 1992: When the Seattle Mariners visited the Orioles in Baltimore, their season was pretty much over (they'd end up finishing 7th in their division). Mid-August was the perfect time to experiment with their prospects, so according to baseball custom they called up Bret Boone. The young second baseman came highly touted with good hands, a strong arm ... and a unique pedigree. As he took the batter's box, the Boones became the first family (descendants of American pioneer and coonskin cap icon Daniel Boone) to field three generations of Major League ballplayers. Grandfather Ray won a World Series with Cleveland during his 1948 rookie year, garnering two All-Star appearances until his retirement in 1960. Bret's father Bob carried on the family trade as a catcher, helping the Phillies to a 1980 World Series as he helped himself to four All-Star games and seven Gold Gloves.
Both Bret and his younger brother Aaron would go on to distinguished careers of their own. Bret earned two Silver Slugger awards and three All-Star selections. He was also a member of the regular-season record-setting 116-win Mariners team. Aaron became one of ESPN's premier baseball analysts.
In 1995, the Bells (Gus, Buddy, David and Mike) and Hairstons (Sammy, Jerry, Jerry and Jerry Jr.) completed the three generation feat and joined the Boones, while the Colemans (Joe, Joe and Casey) became the first family to turn the trick as pitchers way back on August 3, 2010.