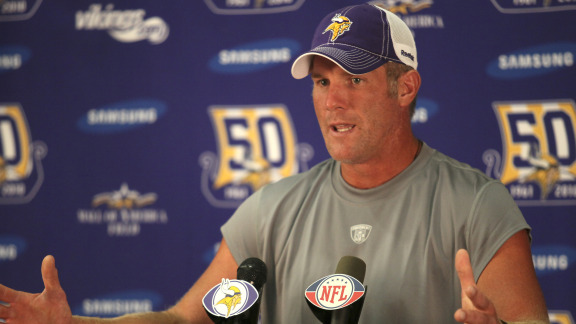 Photo by Adam Bettcher/Getty Images
Brett Favre Practices with Vikings
Brett Favre says the strong chance of playing in another Super Bowl brought him back to the NFL for a 20th season. After practicing with the Vikings Wednesday, he said, "this is a very good football team" and said the chances of making the Super Bowl with Minnesota, "are much greater than other places."
Cubs Trade Derrek Lee to Braves
Derrek Lee is likely going to the playoffs. The Chicago Cubs traded the first baseman to the Atlanta Braves for three pitching prospects on Wednesday. His first game with Atlanta may be back in Wrigley Field this weekend as the Braves open a series with the Cubs on Friday.
Nevada, Fresno State Move to MWC
Let's move. The Western Athletic Conference will lose Fresno State and Nevada to the Mountain West Conference, the league announced Wednesday. The Mountain West is losing Utah -- and possibly BYU -- next season but gaining Boise State, another WAC school.
Caddie: No Split with Tiger Woods
Steve Williams has been the bag-man for Tiger Woods, and as he sees it, he will be for the foreseeable future. He told New Zealand radio Wednesday, "People speculate. He's not playing well and his results aren't what we're used to. Tiger and I are very good friends and we've been through a tough time, there's no question about that...I'm sure if there was going to be some sort of parting of the ways, I'd be the first to know. From my point of view, I don't see any chance of that happening."
Manning Back on the Field with Giants
A stitched-up Eli Manning joined his Giants teammates on the field Wednesday. Manning needed 12 stitches Monday night after sustaining a heavy hit from lineback Calvin Pace of the Jets. The 29-year-old quarterback, who also threw a couple of passes Wednesday, will not play in the Giants' game against Pittsburgh Saturday night.
Ricky Williams Wants Another 1-Year Extension:
Ricky wants to run for the Dolphins in 2011, according to ESPN.com AFC East blogger Tim Graham. "Ideally, right now, I would like to get a year extension with the Miami Dolphins, play this year and next year and then really focus on my schooling," Williams said.
See you in September. New York Yankees starting pitcher Andy Pettitte won't return to the mound until the first week of September at the earliest, and more likely the middle of the month. Pettitte's rehab for the left groin injury he suffered July 18 was shut down for a week Tuesday after an MRI showed that the injury still had not healed.
Henin Will Miss Rest of 2010 Season
Justine Henin's 2010 season is over. The 28-year-old Henin is recovering from an elbow injury sustained at Wimbledon in July and said on her website she would not be able to practice again until October. The former No. 1 has won seven Grand Slam tournaments, including four French Open titles.
Rex Ryan to Dungy: Don't Judge Me
Jets coach Rex Ryan says he's been "unfairly judged" by Tony Dungy. The former Colts head coach said he was "disappointed with all the profanity" Ryan used on HBO's Hard Knocks. Ryan said profanity doesn't make him a bad person.
Carmelo Also Open to Nets and Rockets
Carmelo Anthony says he's not feeling the love from the Denver Nuggets. ESPN NBA Insider Ric Bucher reports that Melo's desire to go elsewhere stems from his feelings that he has not been treated like "a franchise player" by the organization.
The Associated Press contributed to this report.