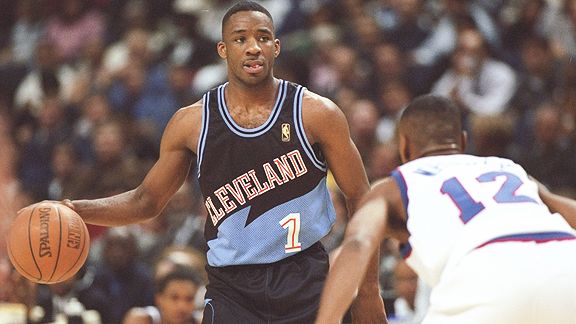 Doug Pensinger/Allsport
Who could forget these Cleveland classics?
The Cleveland Cavaliers are getting a makeover on the court with some fresh uniforms to replace the ones they debuted when some kid from Akron joined the team in 2003. The new unis are a throwback to earlier designs without any of the style or panache of say, the new Jazz jerseys. However, with the 2010-11 season still a few months away, the Cavs still have time to "jazz" up their style a bit.
Instead of the nondescript type proposed for their new uniforms, the Cavaliers could take a cue from their owner, Dan Gilbert, and spice things up a bit. Everyone loves Comic Sans, and we think gold type on a maroon jersey would look gorgeous.
If Comic Sans proves to be a little too cartoonish for Cleveland's taste, they could go for a more sophisticated sans type and take a cue from England's national soccer team. The Three Lions used Gill Sans on their 2010 World Cup jerseys, but the famed font didn't seem to help them too much. The type, as probably already well known to scholar Wayne Rooney, was designed for Penguin Books in the thirties and looked just as good on the back of Rooney as on the jacket of Orwell.
But if they really want to go for a fresh change, maybe the Cavs, and basketball teams in general, should take a tip from Major League Baseball. The Yankees, Red Sox, Pirates, Giants and others are all well known for their distinctive uniform scripts as they are for their cap logos. In the NBA, uniforms are not known for distinctive type, but at least they still have the team names (the NFL uniforms don't).
The most distinctive basketball jersey would probably be the Lakers. Despite the purple and gold, they have one of the more distinctive fonts in the league. The Cavs may be hard pressed to match the Lakers on the court, but on the uni front they could make a splash by going back to something more distinctive. At least Golden State knows what we're talkin' about.