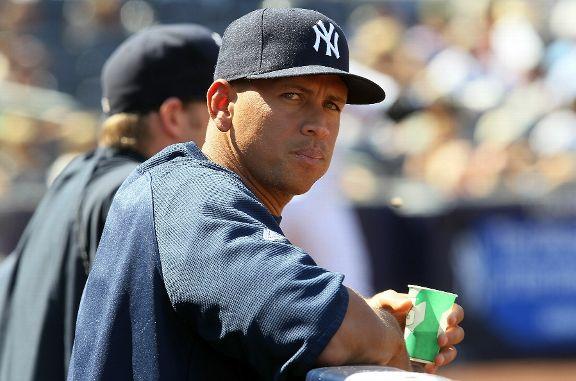 Getty Images
Good news and bad news for the Yankees on Saturday. New York defeated Seattle 9-5 but lost Alex Rodriguez to the disabled list with a left calf strain. Rodriguez had been out of the starting lineup four of the past five games because of the injury.
Stephen Strasburg to Have MRI Exam
Stephen Strasburg's season could be over. Strasburg left Saturday's 8-1 win against the Phillies in the fifth inning with a strained tendon in his right forearm. He allowed two hits, one run and struck out six in 4 1/3 innings, his shortest outing of the season Saturday. The team announced Strasburg will have an MRI on Sunday.
Ben Roethlisberger returned to NFL action Saturday night against the Giants. Roethlisberger was 6 of 8 for 76 yards and 1 INT in the 24-17 Steelers win. It was Big Ben's first game since being suspended six games by the NFL for violating its personal conduct policy.
Albert Haynesworth Unloads on Redskins
The Washington Redskins lost to the Baltimore Ravens 23-3. The rough night didn't end after the fourth quarter. Defensive tackle Albert Haynesworth spoke following the game and said he wasn't injured enough to be held out of practice earlier in the week. "I was told I had 'headaches' or whatever and that's why I couldn't go out and practice," he said. "I think it was a little bit more than that." Redskins coach Mike Shanahan said he'll look at the game tape to evaluate Haynesworth's performance, but that Haynesworth has to earn his time with the first team.
Kyle Busch Wins Sprint Cup Race at Bristol
Kyle Busch drove into the NASCAR record books Saturday night after winning the Sprint Cup Series at Bristol. With the win, Busch became the first driver in NASCAR history to win a Truck, Nationwide and Cup series race in the same week. David Reutimann finished second.
Tra Thomas is calling it a career, retiring at the age of 35. The three-time pro bowl left tackle said Saturday that he has decided to leave the game because he can longer play at the level he expects from himself. He signed with San Diego in June as a possible replacement for Marcus McNeill, who is holding out.
Vincent Not Pleased With Selig Decision On Rose
Former MLB commissioner Fay Vincent isn't pleased with current commissioner Bud Selig, according to the NY Post. Vincent thinks current MLB commissioner Bud Selig is trying to "please everyone" by allowing the Cincinnati Reds to honor Pete Rose on the 25th anniversary of Rose's setting the all-time hit record. The Reds asked Selig for permission to honor Rose at the Great American Ball Park on Sunday, Sept. 12. The request was granted.
Sports Commentator Mariotti Arrested on Felony
Jay Mariotti, a long-time sports columnist who writes for AOL Fanhouse and is a frequent panelist on ESPN's Around The Horn, has been arrested on a felony charge in Los Angeles. Police say the 51-year-old Mariotti was arrested early Saturday following a domestic incident but declined to provide further details.
U.S. Overcomes Rocky Start Against Lithuania
The U.S. started ugly but finished strong in its win against Lithuania on Saturday. After shooting 3 of 21 in the first period, Russell Westbrook and Eric Gordon led a 17-0 U.S. run on the way to a 77-61 exhibition win. Kevin Durant led the U.S. with 15 points.
Report: Juan Martin del Potro Withdraws
Juan Martin del Potro will not defend his U.S. Open title. The 21-year-old is not ready to compete after having surgery on his right wrist. Del Potro hasn't played since January's Australian Open. The U.S. Open starts Aug. 30.
The Associated Press contributed to this report.