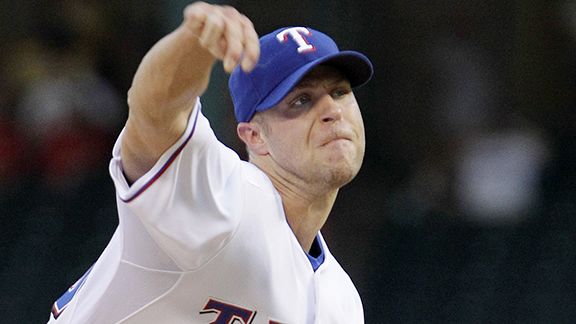 AP Photo/LM Otero
Texas' Rich Harden went 6 2/3 innings of no-hit ball before being lifted after throwing 111 pitches. The Twins' Joe Mauer broke up the combined no-no bid with a single in the ninth.
Strasburg Likely Going On DL With Forearm Strain
Rookie ace Stephen Strasburg of the Washington Nationals is probably headed back to the disabled list. Strasburg strained a tendon in his right forearm over the weekend, and Nationals manager Jim Riggleman said Monday the team would "proceed with caution" with the prized pitcher. Riggleman said Strasburg would definitely miss his next scheduled start Thursday and likely be put on the DL. The team says he will have a second MRI on his arm in the next day or two.
Reports: Red Sox Claim Johnny Damon
The Boston Red Sox claimed Detroit Tigers outfielder Johnny Damon on waivers, according to reports on SI.com and NYPost.com, but it is unclear whether Boston made the claim in order to try to bring Damon back to Fenway Park or to try to block the former Sox outfielder from going elsewhere. According to MLB rules, the Red Sox have 48 hours to work out a trade for Damon, who reportedly must waive a no-trade clause to approve a deal to Boston. However, the Tigers could also decide they don't want to trade Damon and pull him back.
Kwame Brown To Rejoin Jordan With Bobcats
To the surprise of many, Kwame Brown and Michael Jordan are together again. It's a reunion that no one in the league expected after their well-chronicled difficulties in Washington. Now, Brown will be in Charlotte, after he struck a one-year deal with the Jordan-owned Bobcats. Mark Bartlestein, Brown's agent, told ESPN.com's Marc Stein that the sides agreed to terms Monday after Brown played the past two seasons for the Detroit Pistons.
Tom Brady Isn't Watching "Hard Knocks"
On the on the Dennis and Callahan Show/WEEI Sports Radio Network, Tom Brady was asked if he was watching HBO's "Hard Knocks" training camp documentary about the Jets, Brady said: "Honestly, I haven't turned it on. I hate the Jets, so I refuse to support that show. I'm sure it's great TV. I'm glad people are liking it. But that's just something that I have no interest in watching. I'd love to say a lot of mean things, but I'd rather not do that, either."
Jim Brown Planning To Skip Browns Ring Of Honor Ceremony
Jim Brown, arguably the greatest Browns player of all time, does not plan to participate in the club's inaugural Ring of Honor ceremony at the home opener Sept. 19. The Browns have been holding off an announcement of the creation of the Ring of Honor until the proposed inductees in the first class, or family members, confirmed their attendance. The first class will be made up of the Browns' 16 Pro Football Hall of Famers. The Browns have not heard directly from Brown that he will not attend. "He won't be able to make it," said Monique Brown, Jim's wife, speaking for him. "He tried to move a few things around (his schedule), but wasn't able to." The snub speaks to the suddenly frosty relations between the franchise and its greatest player.
Tiger and Elin Officially Divorced
Attorneys say Tiger Woods and Elin Nordegren are officially divorced; terms of divorce have not been disclosed, except that they will share parenting of their two children, ages 3 and 1. The lawyers for Woods and Elin Nordegren say in a statement that the divorce became official Monday in Bay County Circuit Court.
Sabathia Wants To Stay In Pinstripes
CC Sabathia loves wearing the pinstripes. After sailing to his 17th win of the season and delivering another superb outing in Sunday's 10-0 rain-delayed romp over the Mariners, the Yankees ace told The Post that he won't "even consider" becoming a free agent after 2011, even though that provision exists in his seven-year, $161 million mega-contract. "I'm here," Sabathia said. "Hundred percent."
Clarett Seeks Permission For UFL Tryout
Former Ohio State tailback Maurice Clarett, who led the Buckeyes to the 2002 national championship, is asking a judge to allow him to travel to try out with the Omaha Nighthawks of the United Football League. Clarett pleaded guilty in 2006 to aggravated robbery and carrying a concealed weapon and served 3.5 years in a Toledo prison. He is attending classes at Ohio State while living in a detention facility in Columbus. Clarett cannot leave the state until he receives clearance from the court.
Michael Jordan played for Red Sox manager Terry Francona when both were with the Birmingham Barons in 1994. They remain friendly, and so the Boston Herald reports that Jordan spoke with Dustin Pedroia, who is sidelined with a broken foot. It's similar to the injury that caused Jordan to miss most of the 1985-86 NBA season, and the Hall of Famer told Pedroia rest was the key to his rehab. Of course, Jordan returned before the playoffs that season, just in time to torch the Celtics for 63 points in a loss to the eventual champions.
The Associated Press contributed to this report.