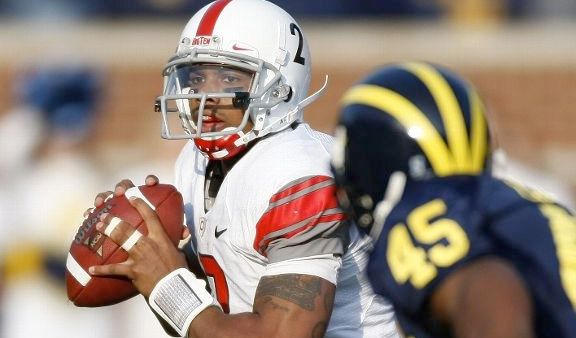 Joe Schad
When to play Ohio State - Michigan?: When I visited with Big Ten folks at the spring meetings and Media Days in Chicago, I came away with the feeling that Michigan and Ohio State would most likely end up in separate divisions as the conference split for a title game. I had the feeling that the Big Ten liked the way the ACC had split Miami and Florida State, even if the two had yet to meet in the ACC title game. I also had the feeling Michigan and Nebraska would end up on one side of the conference and Ohio State and Penn State on the other. I liked the idea of splitting the teams this way because the possibility of a Michigan-Ohio State title game should exist. What I didn't give enough though to, apparently, was the possibility that the regular-season finale could be moved up in the schedule. With the athletic directors at both schools and the commissioner of the conference suggesting a move back is possible, I ask: why? It's OK to move it back, but wouldn't it be better to leave it right where it is? Who wouldn't love back-to-back Ohio State-Michigan games? Firstly, it's not guaranteed. And secondly, who wouldn't watch every minute? It's not as though Ohio State, having clinched its division, would "rest" starters in advance of the conference title game. It's Michigan! And by the way, the Big Ten's openness about potentially shedding tradition gives me an ounce of encouragement that one day tradition will be shedded entirely and we can finally have a playoff. Hey, I said one day.
After the jump, NCAA Lane Kiffin/Vols' Inquiry, Bobby Bowden fallout and more NCAA football noteworthy notes:
NCAA Vols' Inquiry Continues: A source tells me the NCAA interviewed New Mexico quarterbacks coach and passing game coordinator David Reaves about the recruiting practices of Lane Kiffin and the staff he was a part of at Tennessee on Tuesday morning. Reaves is the brother-in-law of Kiffin, now the USC coach. Kiffin, who married David's sister Layla, opted not to take Reaves with him to USC. Reaves said at the time he didn't know Kiffin was leaving. The source said Reeves, as part of a broadened NCAA inquiry, was asked about Tennessee recruiting hostesses having attended recruits' high school games, calls to prospects during an All-Star game and recruiting weekends. The NCAA has been planning to interview Kiffin and other former Tennessee assistants in Los Angeles, perhaps as early as this week. Kiffin has said he's not all that concerned about what the NCAA has been asking about.
Bowden fallout thoughts: As I thought about the sadness of former Florida State coach Bobby Bowden still obviously wounded about the way his tenure at Florida State ended, I thought about T.K. Wetherell, the former Florida State president who essentially delivered the pink slip in person after last season. Did T.K. Wetherell, who played for Bowden and was a close, respected and trusted friend, really want to "fire" the legend? Of course not. But to me, the idea that even Wetherell had come to the conclusion that painful or not, it was necessary, tells me that painful or not, it was. Wetherell, a man without a drop of bias or agenda against Bowden, believes the move was necessary to advance the program. And if that's what he believed to be true, it's hard to believe it wasn't.
Noteworthy: Ironic that former USC QB Aaron Corp has been named starter at Richmond, where he is eligible to compete for a national championship...Oklahoma second-string RB Mossis Madu will be suspended for the opener against Utah State after being charged with DUI this offseason...The Honolulu Star-Advertiser says Hawaii continues to explore football independence, having conversations with the West Coast Conference and Big West Conference, about possible non-football membership...According to the San Jose Mercury News, BYU has reached out to the WCC to explore if it may play its non-football games there should it declare independence.