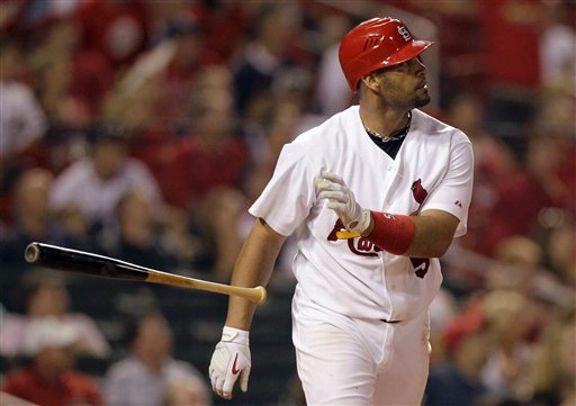 AP Photo
St. Louis Cardinals (68-55) at Pittsburgh Pirates (42-84)
7:05 PM ET -- PNC Park, Pittsburgh, Pennsylvania
Starting Pitchers
St. Louis: Jake Westbrook (1-1, 3.60 ERA)
Pittsburgh: Daniel McCutchen (1-5, 6.65 ERA)
Albert Pujols swings for home run #400 tonight against the Pirates. He is tied with Al Kaline and Andres Galarraga for 47th on the all-time list. If "The Machine" hits #400 before the end of the season he would be the first player in MLB history to hit at least 400 HRs in his first 10 MLB Seasons. If he hits #400 on or before September 20th, Pujols would be the 3rd youngest player to reach the milestone, behind only Alex Rodriguez and Ken Griffey Jr. In his career, Pujols is 2-3 with a HR vs Daniel McCutchen. Only two players have hit their 400th major-league home run in a Cardinals uniform: Mark McGwire and Stan Musial.
Game Preview: STL vs PIT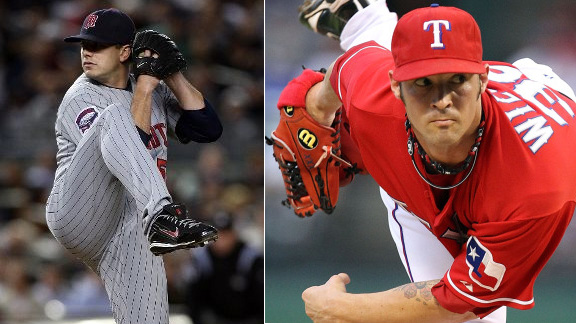 Getty Images/Ronald Martinez/Getty Images
Minnesota Twins (72-54) at Texas Rangers (71-54)
8:05 PM ET -- Rangers Ballpark in Arlington, Arlington, Texas -- ESPN2
Starting Pitchers
Minnesota: Brian Duensing (7-1, 1.92 ERA)
Texas: C.J. Wilson (12-5, 3.02 ERA)
Minnesota and Texas square off in a pitcher's duel in Texas. Since the All-Star break, only two AL pitchers are 5-0 or better with an ERA under 2.40. Those two pitchers, Brian Duensing of Minnesota and C.J. Wilson of Texas, face each other tonight. Wilson, who pitched in relief before this season, had never won five consecutive decisions before his current streak, while Duensing is repeating his run of success last August and September, when he went 5-0 over a span of seven starts. Since moving to the starting rotation, Duensing is 4-0 with a 2.18 ERA in 6 starts (10 ER/41.1 IP).
Game Preview: MIN vs TEX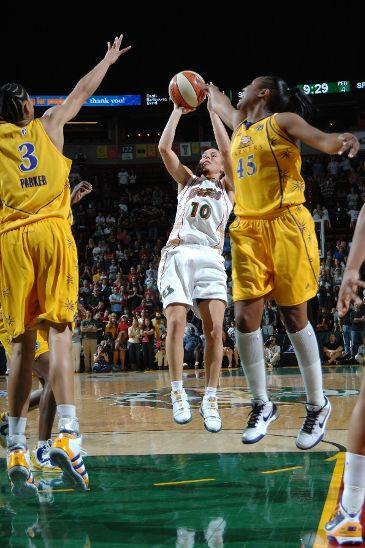 Getty Images
Los Angeles Sparks at Seattle Storm -- Western Conference Semifinals -- Game 1
11:00 PM ET -- Key Arena, Seattle, Washington -- ESPN2
The Sparks and Storm have a playoff history with each other and clash tonight in Game 1 of the Western Conference Semifinals. Los Angeles has won each of its four previous playoff series meetings against Seattle, including Conference Semifinal rounds wins in each of the past two postseasons. Seattle is a different team in 2010. The Storm set a new WNBA record for home wins in a season this year with 17. Seattle also joined the 2001 Los Angeles Sparks as the only teams to go undefeated at home for an entire season (SEA was 17-0 at home this season, LA was 16-0 at home in 2001) and tied the WNBA record for most total wins in a season with 28. Do the Sparks continue their playoff domination or will Seattle's historic season continue? Stay tuned.
Note: The Elias Sports Bureau and ESPN Stats and Information group contributed to this report.