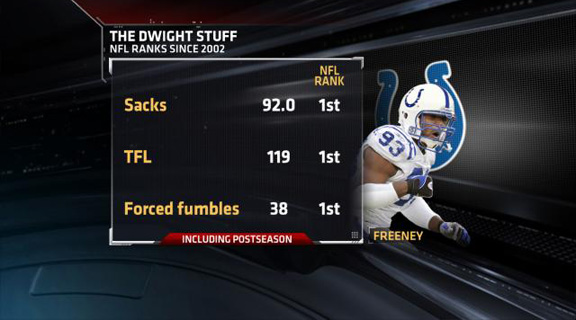 SACK MASTER: Since coming into the league in 2002, Dwight Freeney has recorded 92 sacks, including 8 in his 14 career playoff games. That total is the most in the NFL that span, as are his career totals of 38 forced fumbles and 119 tackles for loss the past 8 seasons.
After the jump, find out why Johnny Votto is Mr. Clutch, why the Rockies are feeling a Rocky Mountain High this morning and inside the tale of the tape between MMA fighters Frankie Edgar and BJ Penn.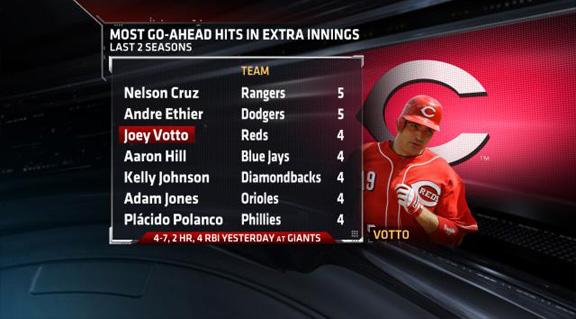 MR. CLUTCH: Joey Votto comes up clutch once again. He now has 4 game-winning hits in extra innings over the past 2 seasons. Only Nelson Cruz and Andre Ethier have more. Votto also joins Scott Rolen and Dustin Pedoria as the only players this season to hit 2 HR in a game and then have the go-ahead hit in extra innings.
Game Recap | Box Score | Highlight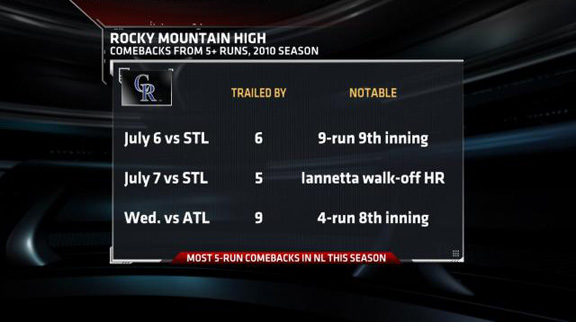 ROCKY ROAD: The Rockies scored 11 unanswered runs to come from 10-1 down and beat the Braves. The 9-run deficit overcome was tied for the largest in the history of the franchise, matching a comeback from July 4, 2008 against the Marlins. The Rockies trailed 13-4 in that one, but won 18-17. They now have the most 5-run comebacks in the NL this season.
Game Recap | Box Score | Highlight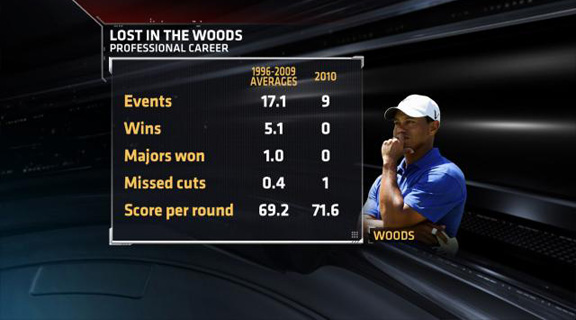 TRACKING TIGER: Since turning pro in 1996, Tiger Woods averaged a little more than five wins per year. He has yet to win in nine events this season and has already missed one cut. Something he did just five times the previous 14 seasons as a pro.
The Barclays Leaderboard | Watch LIVE on ESPN3.com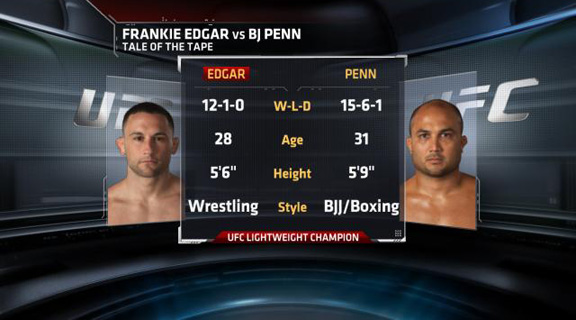 UFC 118: Let's look at the tale of the tape between Frankie Edgar and BJ Penn. Penn is 3 inches taller but also 3 years older. Edgar, the UFC lightweight champion, has only lost 1 MMA fight in his career. He uses the wrestling style while Penn uses a mix of boxing and Brazilian jiu-jitsu.