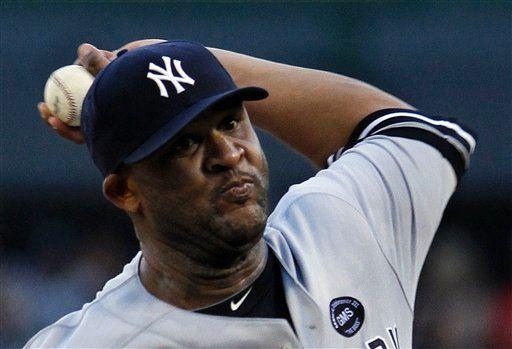 AP Photo/John Smierciak
CC Sabathia, Yankees Top White Sox 12-9
CC Sabathia became the majors' first 18-game winner, defeating the White Sox Saturday night. Marcus Thames hit two of New York's four homers in the team's 12-9 victory.
Tiger Going Backwards on the Leaderboard
Tiger Woods is 3-under through three rounds at The Barclays in New Jersey, well off the pace set by Martin Laird. Woods hit a 3-wood out of bounds off the opening tee, leading to a triple bogey. He finished birdie-birdie for a 1-over 72 that left him tied for 28th. Laird is the clubhouse leader at -12.
Favre Struggles Without Rice, Throws 2 INTs
Brett Favre threw for 187 yards and two interceptions in Minnesota's 24-13 victory over the Seattle Seahawks on Saturday night. Favre completed 16 of 26 passes including four to new WR Greg Camarillo. The Vikings overcame 3 turnovers in the win.
Arizona QBs Play Well, Defeat Chicago
Who's the starter? Derek Anderson started for the Cardinals in Saturday's 14-9 win against the Bears. Anderson was 7 of 12 for 94 yards and 1 TD. His main competitor for the starting job, Matt Leinart went 9 of 10 for 84 yards and 1 TD. Chicago's QB Jay Cutler threw 2 INTs, going just 10 of 20 for 129 yards.
UFC's Couture Makes Short Work of Boxer Toney
It didn't take long for Randy "The Natural" Couture to make his point, he can still fight. The 47-year-old Couture defeated James Toney in 3 minutes and 19 seconds into the first round by submission. Later, Frankie Edgar won a five-round unanimous decision against BJ Penn to remain the undisputed UFC lightweight champion.
U.S. Cruises Past Croatia in FIBA World Opener
Kevin Durant scored 14 points and got the United States started during a dominant second-quarter stretch in a 106-78 victory over Croatia in its opening game at the World Championships on Saturday. Eric Gordon made four 3-pointers and had 16 points to lead the Americans.
Dez Bryant Tests Ankle at Full Speed
Dallas Cowboys rookie receiver Dez Bryant is nearing a return. On Saturday, the injured rookie (ankle) ran routes at full speed for the first time since the injury July 30. Meanwhile, the Cowboys lost to the Texans 23-7.
Manny Ramirez Doesn't Start, K's in the 7th Inning
Manny Ramirez didn't start but made a brief appearance in Saturday's 5-3 loss to the Rockies. Pinch-hitting for Dodgers starter Chad Billingsley in the seventh inning, Ramirez struck out swinging, in what could be his last hurrah in a Dodgers uniform.
Federer Hires Ex-Sampras Coach Annacone
Roger Federer is bringing aboard Paul Annacone as his coach for the U.S. Open and "going forward." Federer said on his website Saturday that "Paul and I have had a good trial period." Annacone, an American, is the former coach of Pete Sampras, Marat Safin and Tim Henman.
Phoenix Mercury, Seattle Storm Sweep Their Way Into Conference Finals
Diana Taurasi scored 23 points as the Phoenix Mercury topped the Silver Stars 92-73 Saturday, completing a sweep of their Western Conference semifinals series. Meanwhile, Lauren Jackson had 24 points, nine rebounds, three blocks and three steals, helping the Storm close out the Sparks 81-66, sweeping their best-of-three Western Conference semifinals series.
The Associated Press contributed to this report.