Kevin Durant Leads U.S. Past Slovenia At Worlds
Kevin Durant's shooting and Kevin Love's strength sent the United States to a 2-0 start at the world championship in Istanbul, Turkey. Durant scored 22 points, Love added 10 points and 11 rebounds off the bench, and the Americans beat Slovenia 99-77 in an opening-round game.
Getty Images
Bengals Release WR Bryant, Will Owe $8 Million
The Cincinnati Bengals released receiver Antonio Bryant, the team announced today. Bryant was a major disappointment after signing a four-year, $28 million contract this offseason with just under $8 million guaranteed. He signed with Cincinnati despite offseason knee surgery that hadn't fully healed. He struggled in minicamp and training camp and didn't play a game in a Bengals uniform.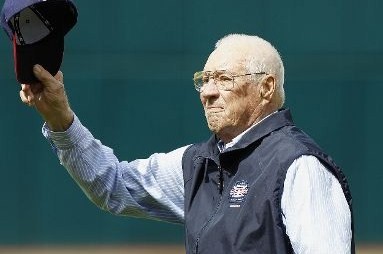 Getty Images
Hall of Famer Feller Being Treated For Leukemia
Bob Feller, the third-oldest living member of the Baseball Hall of Famer, is being treated for leukemia. The 91-year-old Feller was back at his usual seat in the Cleveland Indians' press box today after missing the first five games of the current homestand. He said he felt good after 10 days of outpatient treatment at the Cleveland Clinic.
The Associated Press contributed to this report.