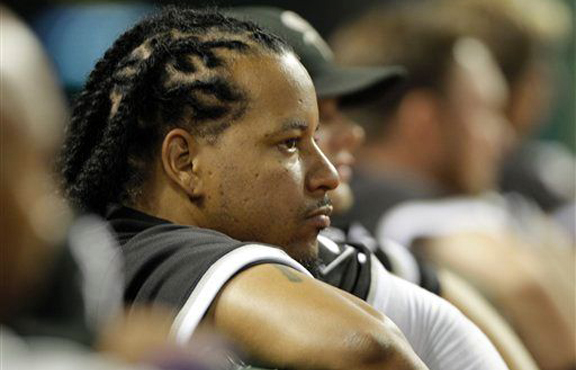 Getty Images
Ramirez is now working in the South Side where he'll let homeruns, and his hair, fly.
Now that he's finally cleared waivers, Manny Ramirez finally put on pinstripes for the first time Tuesday night. White Sox pinstripes, that is. And he sat on the bench. But, still. Ramirez has traded in life in Mannywood for life in the South Side where he may find a kindred spirit in manager Ozzie Guillen. As the Pale Hose make a last-ditch push for the playoffs, here's a few tips they might use to keep their newly-acquired temperamental slugger happy.
Always Play the Numbers
First of all, no player on the Sox' active roster currently wears #99, so that should keep their dread-locked DH happy, for a while. And he won't even have to come up with some sort of elaborate trade like other professional athletes.
Improved On-Field Facilities
Fortunately for Manny, as designated hitter he'll spend most of his time on the bench while his teammates take the field. But in certain situations where Guillen asks Manny to patrol left field, he might find himself stranded without a manual scoreboard to escape into during pitching changes. Might be time for the Sox to restore the picnic seats of Old Comiskey. When he needs a break, Manny could duck in and maybe even have some potato salad and hot dogs with picnicking fans. And he won't even have to wait for the next half-inning.
Get a Grip
Jerry Reinsdorf is already probably cutting a lot of checks for pine-tar. But no matter what amount the White Sox are buying, they're going to need to double it. And besides, it always comes in handy.
Speak the Language
Luckily with Guillen skippering the team the White Sox won't need a translator. Guillen's made his own views on this issues known, and while Manny is playing baseball in his eighteenth season, it can never hurt to have a little clarification across the language barrier.
Increase Your Revenue Streams
Looks like the Sox are willing to eat Manny's contract, other than make a trade for a player to be named earlier. There are ways of defraying that contract price, however. Attention White Sox Press Office, get that man an eBay account.