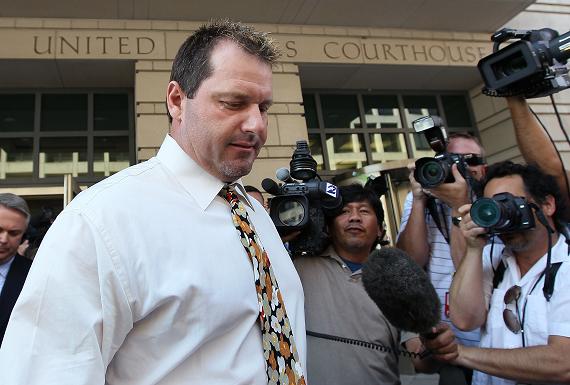 Mark Wilson/Getty Images
Roger Clemens Pleads Not Guilty To Lying To Congress
Seven-time Cy Young winner Roger Clemens pleaded not guilty Monday to charges of lying to Congress about whether he used steroids or human growth hormone. When asked for a plea by U.S. District Judge Reggie Walton, the retired Major League Baseball pitcher said in a clear voice: "Not guilty, your honor." He had sworn under oath to a House committee in 2008 that he had not used performance-enhancing drugs. Federal prosecutors didn't believe Clemens' testimony to Congress, and they subsequently charged him with making false statements, perjury and obstruction of Congress. If convicted, Clemens could face up to 30 years in prison and a $1.5 million fine.
Manny Ramirez To Join White Sox Tuesday
The Chicago White Sox claimed 12-time All-Star slugger Manny Ramirez off waivers from the Los Angeles Dodgers, and he will join the team in Cleveland on Tuesday, a source familiar with the situation told ESPNChicago.com's Bruce Levine. The White Sox will be responsible for the remaining $3.825 million of Ramirez's contract this season. Ramirez joins his fourth major league team.
Brett Favre tells Sports Illustrated that he received an injection of lubricant into his troublesome left ankle after playing Saturday. When asked if the thinks he can last the season, Favre said quote, "I don't know"
Redskins' McNabb and Portis On The Sideline
Redskins QB Donovan McNabb again wore a compression stocking on his left leg Monday as he watched the team's workout. Neither the veteran quarterback nor RB Clinton Portis is expected to play Thursday against the Cardinals, even if healthy, because coach Mike Shanahan usually doesn't play starters in the final preseason game. Shanahan said that McNabb and Portis are day to day, but teammates expect both to play in the season opener against the Dallas Cowboys on Sept. 12. McNabb's injury has hindered his development as he learns a new offense after 11 seasons with the Philadelphia Eagles.
Antonio Bryant's Agent Says They Will File Grievance Against Bengals
Without playing a down, Antonio Bryant made $6.95 million dollars. He could be making even more. After being released by the Bengals, Bryant's agent, Lamont Smith, said that the team did not approach him about an injury settlement and that they would file a grievance to get the $1.55 million in base salary he was scheduled to make. "Our position is you can't cut a guy if he's hurt. We know what the rules are. We expect to be paid his salary for the year," Smith said. "He understands what his rights are. We've talked about it over the last three weeks and he understands it's a business."
Concern Over Jason Campbell's Throwing Wrist
Oakland quarterback Jason Campbell's neck injury is not as bad as first thought. However, the wrist injury to his throwing hand that he suffered versus the 49ers has his status uncertain. Raiders head coach Tom Cable says the quarterback's progress will be monitored in the days ahead.
Burnett To Stay In Yankees Rotation
A.J. Burnett will stay in the Yankees starting rotation despite going 0-4 with a 7.80 ERA this month. Skipper Joe Girardi decided to keep the struggling Burnett in place instead of turning to Javier Vazquez, Chad Gaudin or Sergio Mitre. Burnett will start Wednesday against the A's.
Former Ohio State Star Maurice Clarett Signs With UFL
Former Ohio State star Maurice Clarett has signed a one-year contract with the Omaha Nighthawks of the United Football League
Clarett met Monday with team officials and UFL commissioner Michael Huyghue, who gave his blessing. Clarett ran into trouble after leading Ohio State to the 2002 national championship. He served 3½ years in prison for having a hidden gun and holding up two people outside a Columbus, Ohio, bar, then spent 4½ months in a lockdown dormitory.
U.S. Soccer Signs Bob Bradley To Four-Year Extension
Bob Bradley will remain coach of the U.S. men's soccer team through the 2014 World Cup. U.S. Soccer announced late Monday it had agreed to a four-year contract extension with Bradley, whose current deal expires in December. Bradley is 38-20-8 over the last four years, including a victory over then-No. 1 Spain at last year's Confederations Cup. The Americans reached the second round at the World Cup in South Africa before losing to Ghana.
Florida State Wants High School To Stop Using Nickname And Logo
USA Today reports that Florida State has asked Southeast High School in Bradenton, Fla. to stop using its nicknames "Seminoles" and "Noles" and the school's logos by an attorney representing Collegiate Licensing Company. Southeast's athletic teams have been known as the Seminoles throughout the school's 51 years and even have a different color scheme (blue/orange) than FSU's garnett and gold. The school is the alma mater of former Florida State wide receiver Peter Warrick, who is currently an assistant football coach.
Troy Polamalu's Hair Insured For $1 Million
Troy Polamalu has a nice head of hair. How nice? People Magazine is reporting that Head and Shoulders is insuring Polamalu's hair for a million bucks. The Steelers safety is the spokesperson for the shampoo. He hasn't gotten his haircut in 8 years. Polamalu says it takes him 45 minutes to get his hair ready for a game.
The Associated Press contributed to this report.