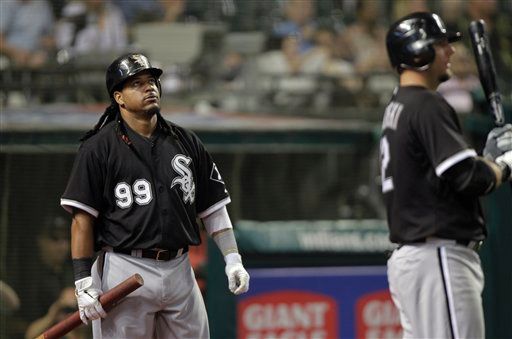 Manny Ramirez stands on deck, ready to pinch-hit in the ninth inning. Manny went back to the dugout after A.J. Pierzynski broke a tie with the Indians, with a three-run home run. Sox won 4-3. (AP Photo/Mark Duncan)
Alabama's Mark Ingram Out For Opener
Heisman Trophy winner Mark Ingram of Alabama will miss the season opener after injuring his left knee during practice. He was hurt Monday and coach Nick Saban said in a statement the star tailback had an arthroscopic procedure Tuesday. The coach says Ingram should make a full recovery in a "relatively short time." The top-ranked Crimson Tide opens Saturday against San Jose State.
Masoli's Waiver Request To Play In 2010 Denied
The NCAA has denied Mississippi quarterback Jeremiah Masoli's request for a waiver that would allow him to play immediately. That means he won't be eligible until 2011. The school has announced plans to appeal the ruling, with a response expected in less than a week. Masoli transferred from Oregon to Mississippi after being kicked off Oregon's team after two run-ins with police.
Nationals' Strasburg Set To Have Surgery Friday
Washington Nationals rookie ace Stephen Strasburg will have Tommy John surgery on Friday to rebuild his injured right elbow, an operation that is expected to sideline him for 12 to 18 months. The ligament replacement surgery will be done in Los Angeles and performed by Dr. Lewis Yocum, with Nationals team doctor Dr. Wiemi Douoguih assisting.
Plaxico Burress' Work Release Request Denied
Former Giants receiver Plaxico Burress has been denied work release for a second time and will likely serve his entire two-year sentence on gun charges. A New York Department of Corrections official told ESPN's Sal Paolantonio that Burress' application was denied, and Burress is not eligible to reapply until June 6, 2011, which is his scheduled release date. Burress is serving time at the Oneida Correctional Facility in Rome, N.Y., after his conviction for illegal gun possession.
Patriots' Leigh Bodden out For Season
The New England Patriots lost a key player Tuesday when Leigh Bodden, their best cornerback, was placed on injured reserve. Bodden, who led the Patriots with five interceptions last season, went on the season-ending list with a shoulder injury.
Red Sox Trade Reliever Delcarmen To Rockies
The Boston Red Sox have traded reliever Manny Delcarmen and cash to the Colorado Rockies for minor league pitcher Chris Balcom-Miller. The Red Sox have faded in the AL playoff race while the Rockies are trying to stay close in the NL wild-card chase. Delcarmen was 3-2 with a 4.70 ERA in 48 games for Boston this season. The right-hander has been especially tough on lefty hitters, holding them to a .165 batting average.
BYU Set To Go Independent In Football
Brigham Young University will leave the Mountain West Conference for the 2011-12 season, go independent in football and join the West Coast Conference in all other sports, most notably men's basketball. The WCC confirmed the addition of BYU effective June 30, 2011, on Tuesday but said neither it nor BYU would comment until a news conference scheduled for Wednesday. BYU had originally agreed to go to the Western Athletic Conference in all sports and go independent in football before the MWC stopped the move by inviting WAC members Fresno State and Nevada two weeks ago.
Mack Brown: "Vince Should Be Awarded The Trophy"
USC has returned its copy of the Heisman Trophy won by Reggie Bush in 2005, even though the Heisman Trust has not stripped Bush of the award. But if they do, Texas coach Mack Brown says it should go to Vince Young, his former quarterback. "I think you have to go back and really give that choice to the Heisman Trust. If they take it away, I think Vince should be awarded the trophy. Vince was second in the voting, so even if they re-voted I would like to see Vince get it," he told The Dan Patrick Show. "At this point it's irrelevant because the Heisman Trust has not decided to take it away."
PGA Tour Suspends Pro-Am No-Show Rule
PGA Tour players can sleep better now. Tour Commissioner Tim Finchem announced Tuesday the suspension for the rest of the season of the pro-am policy that made Jim Furyk ineligible to play in last week's The Barclays. Furyk was disqualified for missing his tee time for the tournament's pro-am on Aug. 25. Furyk, who arrived at Ridgewood Country Club in Paramus, N.J., five minutes late, overslept after his cell phone lost power and the alarm did not sound. Now, should a player be late for his pro-am starting time, the situation will be handled as a matter of unbecoming conduct. The player will be required to participate in the remainder of the pro-am round and may be required to perform additional sponsor activities. A player who misses his pro-am obligation in its entirety will still be ruled ineligible for the tournament unless he has been excused because of a family emergency or injury.
Chris Chelios Retires After 26 NHL Seasons
Chris Chelios, a three-time Stanley Cup champion and three-time Norris Trophy winning defense-man, announced today that he will retire from the National Hockey League after 26 seasons. Chelios played for the Montreal Canadiens, Chicago Blackhawks, Detroit Red Wings and Atlanta Thrashers during his illustrious NHL career. He retires having played the most games by a defense-man in NHL history (1,651) and as the only player in league history to play in over 400 games for three different teams (Chicago-664, Detroit-578, Montreal-402). Chelios will return to the Red Wings as Advisor to Hockey Operations. Chelios said, "The three championship teams I've been lucky enough to be a part of have truly been the highlights of my career. I'm excited for this next challenge to begin and I'm also thankful the Wings have extended this opportunity for me to continue to be close to the game."
The Associated Press contributed to this report.